Gavdos: Embrace Harmony with Yourself and Nature on the Island of Calypso
Nestled off the coast of Greece, this enchanting island, also known as the island of Calypso, offers a serene retreat like no other. Gavdos invites you to leave behind the chaos of everyday life and embrace a harmonious existence where time seems to stand still.
Gavdos is a small, secluded island south of Crete, shrouded in myth and natural beauty. As soon as you set foot on its pristine shores, you will be captivated by the untouched landscapes, crystal-clear waters, and the serenity that fills the air.
A Brief Overview of Gavdos
Geography: Gavdos is the southernmost point of Europe. With an area of approximately 32 square kilometers, this tiny paradise island is a haven for nature enthusiasts and wanderers seeking tranquility.
Untouched Nature: Gavdos boasts breathtaking landscapes, from secluded sandy beaches to rugged cliffs and lush Mediterranean vegetation. Imagine strolling through forests of junipers and cedars, inhaling the fragrant scents, and feeling at one with nature.
Myth and Legend: Legend has it that Gavdos was where Calypso, a nymph in Greek mythology, held Odysseus captive for seven years. As you explore the island, you will come across enchanting caves and secluded spots that evoke a sense of mythical wonder.
Off the Beaten Path: Gavdos remains largely unspoiled by mass tourism, making it an ideal destination for those seeking an authentic, off-the-beaten-path experience. Here, you can truly disconnect from the outside world and find solace in the simplicity of island life.
Endless Possibilities: Whether you are a nature lover, an adventurous soul, or simply searching for relaxation, Gavdos has something to offer everyone. Immerse yourself in outdoor activities like hiking, snorkeling, or simply unwinding on the tranquil beaches.
Local Hospitality: While amenities on the island are basic, the warm hospitality of the locals is bound to make your stay memorable. Indulge in fresh seafood delicacies, savor locally produced olive oil, and embrace the simple pleasures of island life.
Unspoiled Beaches and Crystal-Clear Waters
Gavdos, Calypso's paradise, is renowned for its unspoiled beaches and stunningly clear waters, offering visitors an idyllic coastal experience.
Picture yourself strolling along the soft sandy shores, feeling the gentle breeze against your skin as the turquoise waters sparkle under the radiant sun.
The small and serene beach of Fetife: While hiking from Sarakiniko Bay to Gavdos' most famous beach, Agiannis, you will come across the peaceful and small beach called Fetife(s) at Karediana location. This beach is formed at the mouth of the Agios Pavlos stream, where small pools are created during the winter. The beach boasts weathered rocks perfect for Instagrammable moments. According to local legends, Fetifes takes its name from either a Saracen or a Communist who once had a forbidden love affair with a married woman from Gavdos. They used to meet at this very spot until her husband killed him.
Sarakiniko Beach: It is 1.5km north of the port of Gavdos, Karave. Most people take the bus from Karave to get there, but you can also walk for about 30 minutes. This beautiful beach got its name from the Saracen pirates, who used the island as a base for their attacks. Sarakiniko is a stunning sandy beach with clear, shallow water nestled within a rugged landscape of dunes and juniper trees. Some basic amenities are available at the beach, taverns, and a mini market. It is a popular spot for campers, attracting hundreds of visitors. Archaeologists have discovered pottery fragments and stone tools from prehistoric times in the eastern part of the beach on Kavos Hill. They have also found two ancient Roman cottages and oil pressing systems.
Potamos Beach: It is on the northwest coast of Gavdos Island, approximately 7km northwest of Karave Port. It features reddish sand and shallow water, formed at the mouth of a small canyon with impressive clay formations and cliffs. Surrounded by pine and juniper trees, Potamos Beach is a popular destination for hiking enthusiasts. If you visit the river, admire the rock formations, and try a clay spa treatment. To reach Potamos Beach, you must hike 1.5-2 hours from Ambelos. Before reaching Ambelos, stop by the Gavdos Lighthouse, perched at an altitude of 368m. The lighthouse is now a tiny museum and coffee shop. The lighthouse, built in 1880, used to be visible from 40 kilometers, making it the second-longest visible lighthouse in the world at the time. Unfortunately, it was bombed in May 1942 but was subsequently rebuilt. Continuing your journey from the lighthouse, you will come across chapels and abandoned houses in Ambelos. These stone cottages, now in ruins, serve as a reminder of Gavdos' forgotten past and offer glimpses into the good old days. The trail to Potamos starts from Ambelos and passes through a dense pine grove, offering a view of Gavdopoula Islet. The hike is relatively easy and suitable even for beginners.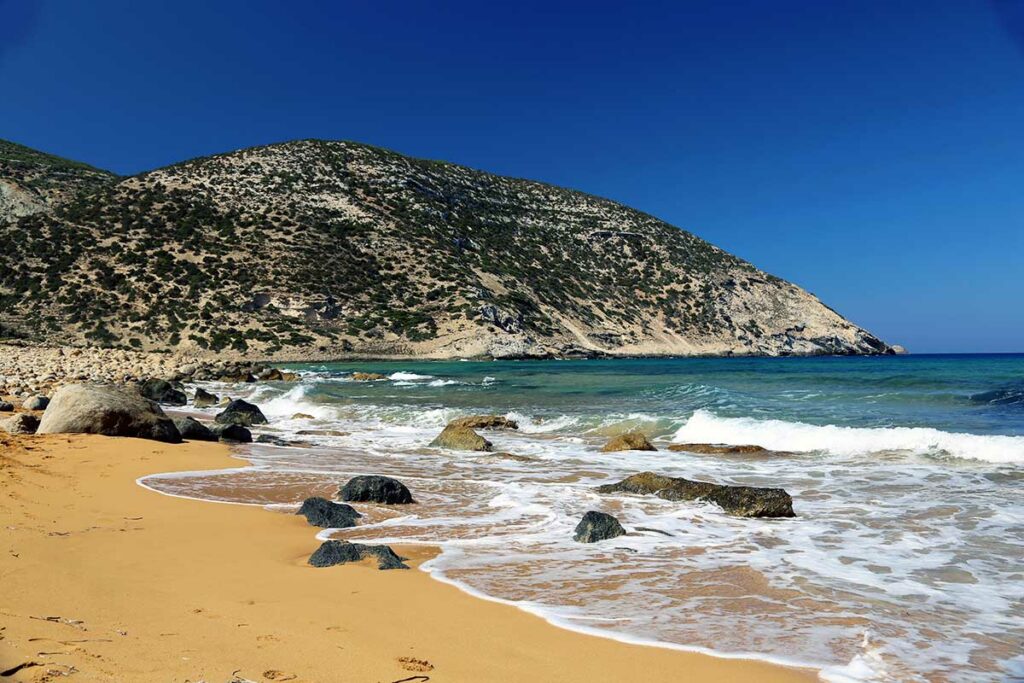 Other famous beaches on Gavdos Island include Tripiti, Beach Diana at Aspes, and Agianni.
Take a leisurely hike through the island's trails and be enchanted by the fragrant pine forests, vibrant wildflowers, and majestic olive groves. Marvel at the impressive rock formations and discover hidden caves that tell tales of ancient myths and legends.
Gavdos is also a sanctuary for wildlife enthusiasts. Watch for unique bird species and admire the graceful flight of colorful butterflies. You might even spot a rare Mediterranean seal lounging on the rocky shores if you are lucky.
Immerse yourself in the tranquility of Gavdos by connecting with the island's natural wonders, breathing in the fresh air, and relishing the harmonious symphony of nature.
Experience the Mythical Connection to Calypso
The island of Gavdos, known as the island of Calypso, holds a mythical charm that captivates visitors. With its untouched beauty and tranquil atmosphere, Gavdos offers a unique opportunity to harmonize with oneself and nature.
In Greek mythology, Calypso was a nymph who resided on the island of Ogygia, which is believed to be Gavdos. According to Homer's Odyssey, Calypso held the Greek hero Odysseus captive on her island for many years, offering him eternal youth and immortality in exchange for his love and companionship. The story of Calypso symbolizes the allure and temptation that can distract us from our true path.
Yoga and Meditation Retreats on Gavdos
Immerse yourself in the tranquil environment of Gavdos through yoga and meditation retreats. These retreats offer a chance to escape the hustle and bustle of everyday life and deeply connect with yourself and nature. Several offers on the island are available, but you will have to research online to find the best that suits your needs and budget.
Gavdos provides myriad wellness activities to rejuvenate the mind and body. From therapeutic hikes along scenic trails to invigorating swims in clear waters, the island offers a range of opportunities to re-energize and restore. You can indulge in outdoor spa sessions, where natural elements like sea salt and local herbs are incorporated into treatments, leaving you feeling refreshed and invigorated. Additionally, holistic therapies like aromatherapy and massage are available to enhance your well-being.
Ecotourism and Sustainability Efforts on Gavdos
Numerous organizations and local communities actively participate in conservation efforts, making Gavdos a model for sustainable tourism. From waste reduction and recycling initiatives to eco-friendly accommodation options, these organizations ensure that visitors can enjoy the island's beauty while being mindful of their ecological footprint.
By engaging in yoga and meditation retreats, wellness activities, and supporting eco-initiatives, visitors to Gavdos can truly harmonize with themselves and nature. This unique island destination provides the ideal backdrop for self-reflection, relaxation, and a deeper connection with the environment.