Enhance Your Birthday Celebration with a Special Birthday Package
Your birthday is a once-a-year occasion that deserves to be celebrated in style. With stunning views, luxurious accommodations, and exclusive rewards, The Syntopia will make your birthday celebration extraordinary. Whether planning a romantic getaway or a fun-filled party with friends and family, the Special Birthday package offers the perfect blend of relaxation, indulgence, and excitement.
Our package includes a range of personalized decorations, a bottle of sparkling wine, a birthday cake, and other exclusive services.
Personalized In-room Decorations to Set the Mood
Every birthday celebration should be unique and reflect your style. That is why our Special Birthday Package includes personalized decorations that will set the perfect mood for your special day. From vibrant balloons and streamers to elegant table settings, our talented team will transform your room into a festive and personalized space that captures the essence of your celebration.
Delicious Birthday Cake to Celebrate Your Special Day
When it comes to birthday celebrations, a cake is an absolute must-have. At The Syntopia, we understand the importance of a delicious and beautifully crafted cake to mark this special occasion. Our talented pastry chefs will create a mouthwatering birthday cake that will impress you and your friends and family. When it comes to the culinary experience, quality is paramount. The pastry chefs use only the finest ingredients to ensure each cake is a true masterpiece. The cakes are made with love and attention to detail, incorporating the freshest local produce and flavors. From the first bite to the last, you will be able to taste the difference that quality ingredients and expert craftsmanship make.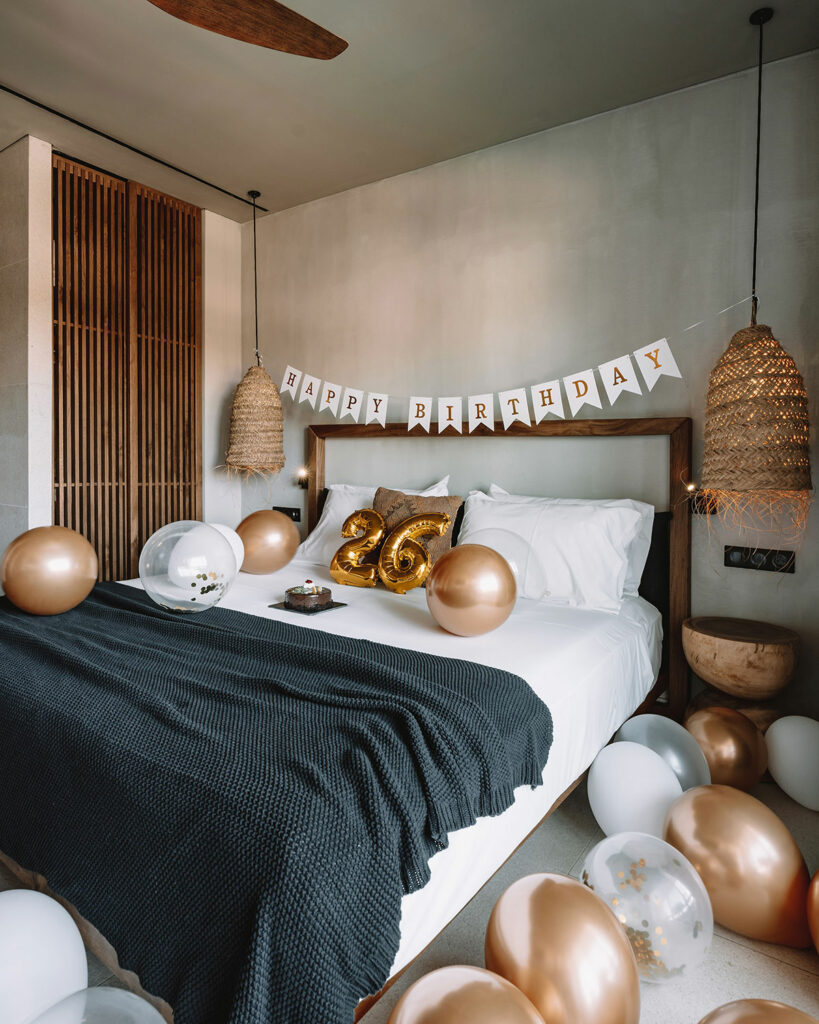 A Bottle of Sparkling Wine for a Toast to Your Health
Make your special day even more memorable with a bottle of sparkling wine to toast to the occasion. As you raise a glass of our finest sparkling wine, you will enjoy the effervescence, the delicate bubbles dancing in your glass, and the vibrant flavors that burst upon your palate. It is a sensory journey that elevates your birthday celebration to new heights of luxury and indulgence.
Contacting The Syntopia Hotel for Reservations
Contact our reservations team to reserve the Special Birthday Package at The Syntopia Hotel. We understand the importance of personalized service, so we encourage you to connect with us directly to ensure all your birthday wishes are met.
You can contact us via phone, email, or social media. Rest assured that our dedicated staff will gladly answer any questions you may have and assist you in securing your reservation swiftly.
Make your birthday celebration extra special with our exclusive Special Birthday package at The Syntopia Hotel in Crete. You can enjoy a luxurious and unforgettable stay with our Superior Sea View, Superior Sea View with Jacuzzi, or Suites. As our guest, you will receive a range of perks, including a welcome drink, a bottle of wine or champagne upon arrival, VIP check-in, healthy snacks in your room, and a 20% discount on spa services. Take advantage of this incredible offer! Contact us today at +302831071471 or reservations@thesyntopiahotel.gr to plan. Let us take care of everything while you indulge in a birthday celebration you will never forget.