Discover Our Jungle Suites
The Jungle Suites at The Syntopia have a biophilic design that brings nature inside to give you a unique mood boost and a feeling of well-being as you step outside in an enclosed private garden with exotic plants and swaying palms.
Spacious and chic, these rooms have floor-to-ceiling sliding glass doors that open to the private garden while allowing plenty of natural light inside.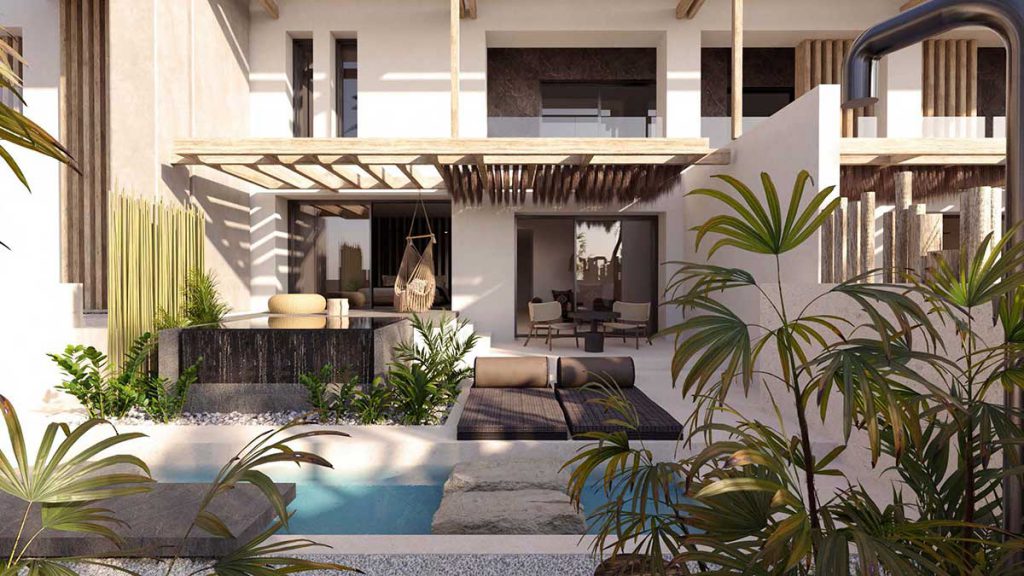 Soothing, Soul-nurturing Interiors
The furnishings are entirely eco-friendly, in neutral colors. Still, their sleek contours and curves bring a smooth flow reminiscent of shapes you find in nature:
The bathroom mirror looks like a lake.
There's an irregular desk with rounded edges if you plan to work during your stay.
Other circular shapes complete an interior-design vision that promotes comfort and luxury.
Roll cylinder bolster pillows, and rounded edges tame the straight lines of the sofa and queen-size bed.
Straight lines that elevate the rooms' architecture are present in ceiling motifs, divider columns, and bathroom vanities.
While furnished for convenience and functionality, the rooms are elegant and avant-garde: it's all about light wood and earth tones in spare grays, beiges, and sandy undertones. Ethnic throw pillows add a discrete touch of color, while natural exotic plants enhance the ambiance with splashes of vibrant green.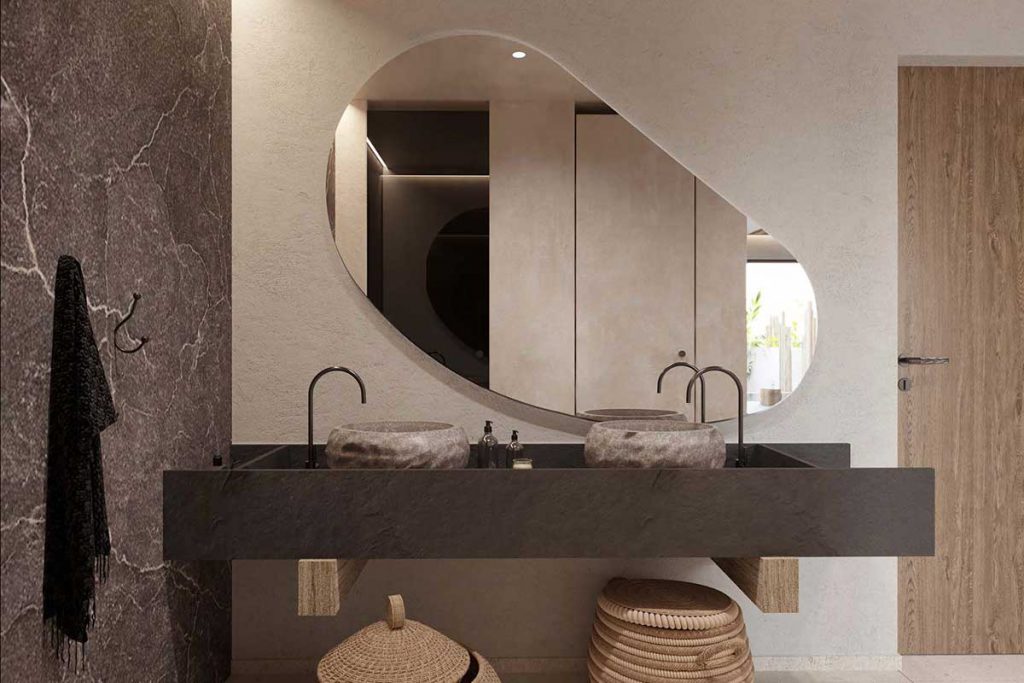 Amenities that Elevate Your Stay
Designed to welcome up to three guests, the airy Jungle Rooms are also homey while offering amenities that make your gypset experience posh. These are some of the things you can look forward to:
Be your own mixologist: Every Jungle Room has two cocktail recipes you can follow to craft delicious cocktails, just like our seasoned bartenders. You'll also find the ingredients you need, a shaker, a stirrer, and proper glasses to bring a polished bar experience to your room.
Relax in a swinging hammock: Your private jungle garden boasts a hammock where you can nap or nourish your intellect and spirit by reading a good book or your favorite magazine. If you are not in the mood for literature, put your headphones on, listen to your favorite tunes, and soak in the Cretan sun and the breeze.
Enjoy a spa-like experience in the outdoor Jacuzzi: The jungle garden features a spacious Jacuzzi where you can relax while taking full advantage of the health benefits of hydrotherapy: quality me and family time, stress relief, and better sleep.
Besides these posh extras, the Jungle Rooms feature essential amenities, including controllable air conditioning, in-room entertainment (flat-screen TVs with international channels), a minifridge stocked daily, high-speed Wi-Fi, and espresso machines with select coffee blends. In addition, all bathrooms have bathrobes and slippers, plush towels, and complimentary organic toiletries.
The Jungle Rooms are the newest addition to The Syntopia accommodation offer. You will be among the first guests to enter these peaceful spaces. Book your Jungle Room before they sell out.