Rethymno's Most Picturesque Beaches
Rethymno has no shortage of well-groomed beaches, each with a unique appeal for thalassophiles. Among these are five of the most picturesque, with crystal waters perfect for swimming and snorkeling, room to sunbathe, and incredibly idyllic seascapes.
Preveli Beach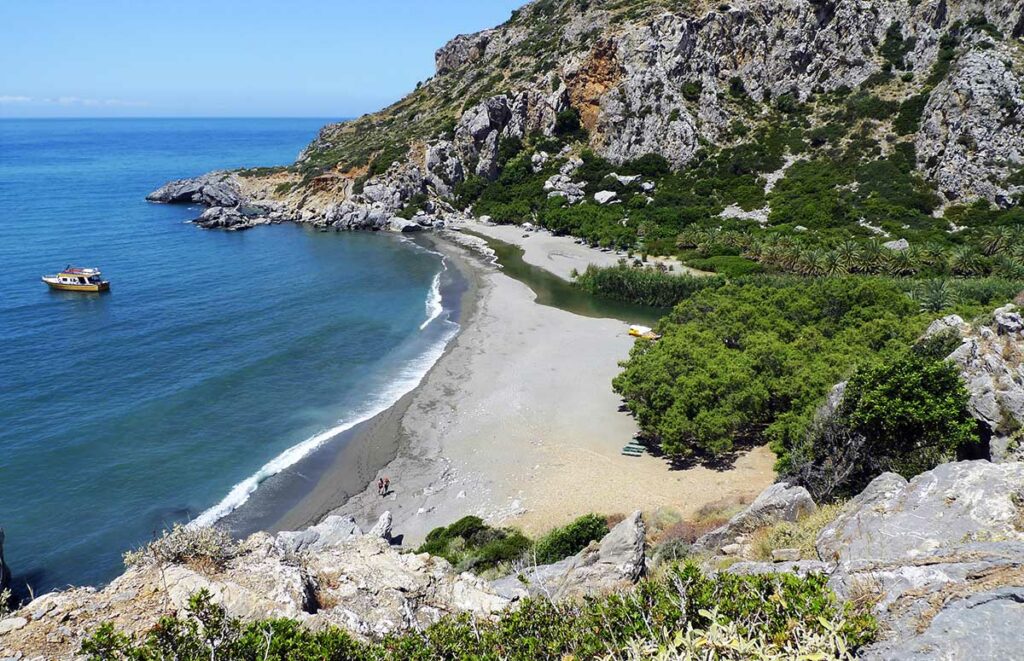 Preveli Beach is one of southern Crete's most beautiful destinations for sun-seekers. Also known as Lake Preveli or Phoenix, this beach stretches at the mouth of Kourtaliotikos Gorge, where the Megalopotamos river flows into the Libyan Sea. The gorge is one of the most spectacular attractions in the Rethymno regional unit, boasting incredible views and a natural date palm grove (Phoenix theophrasti – Cretan date palm) flanking the Kourtaliotis River (called Megalopotamos as it approaches Lake Preveli) on both sides.
Although it lacks convenient facilities like sunbeds and umbrellas, the beach has showers, toilets, and a tavern serving drinks, snacks, and mains like souvlaki, chicken with potatoes, omelets, etc. There are no watersports, lifeguards, or entertainment options, but the beach is scenic and usually clean (when the sea is calm, and the strong waves do not bring seaweed and debris ashore). You can swim into the sea or the river and even hike the palm grove on a marked path that starts at the beach.
The beach is hard to reach on foot: it will take about 20 minutes to walk on steep terrain and rugged steps from the car park above Preveli Beach, shortly after Preveli Monastery, a must-see in this area. Alternatively, you can take a fishing boat from Plakias or Agia Galini to reach the beach.
Since there are no sun loungers or umbrellas here and no shopping opportunities, come prepared with beach mats, sunscreen, and other essentials.
Come prepared to snap beautiful pictures of the river, the palm grove, and the heart shape rock ("stone of lovers") emerging from the sea at Preveli Beach.
Triopetra Beach
Triopetra Beach takes its name from three rocks emerging from the sea close to the shore. Triopetra translates into English as three stones. This scenic destination is about 52 kilometers south of the center of Rethymno city. It is a long pebbly beach with clear water, which gets deep quickly close to shore.
Even in the high season, the beach is crowds-free. It has a small part with sunbeds and umbrellas for rent, the rest being available for public use with plenty of room to lay down your beach towels.
Regarding watersports, the beach is popular with windsurfers and kite surfers. Snorkeling is another favorite pastime at Triopetra, as the water is clear with good visibility up to ten meters deep.
The Akoumianos river flowing into the sea separates Triopetra from the Agios Pavlos beach at Cape Melissa. Agios Pavlos beach itself is an idyllic destination, peaceful and hidden in a sheltered bay. It is popular with families seeking tranquility. The beach is clean, and the water offers excellent visibility to a magnificent rocky seabed that will fascinate snorkelers. You will also find umbrellas, sunbeds, and pedal boats here.
Triopetra consists of two beaches: Small Triopetra (Mikri Triopetra or Koumado) behind the three rocks and the main beach, West Triopetra (Chatzi).
You will find tavernas on the beach at Triopetra and a beach bar in an old shipwreck.
The romantic Triopetra beach is also a favorite spot for sunset gazing. Besides the three rocks, another landmark close to the beach is the chapel of Prophet Elias, on a hill overlooking Akoumiani Gialia, one kilometer northeast of the small harbor Stomio.
Triopetra can be accessed on foot from the village of Akoumia, walking about five minutes on a strenuous path.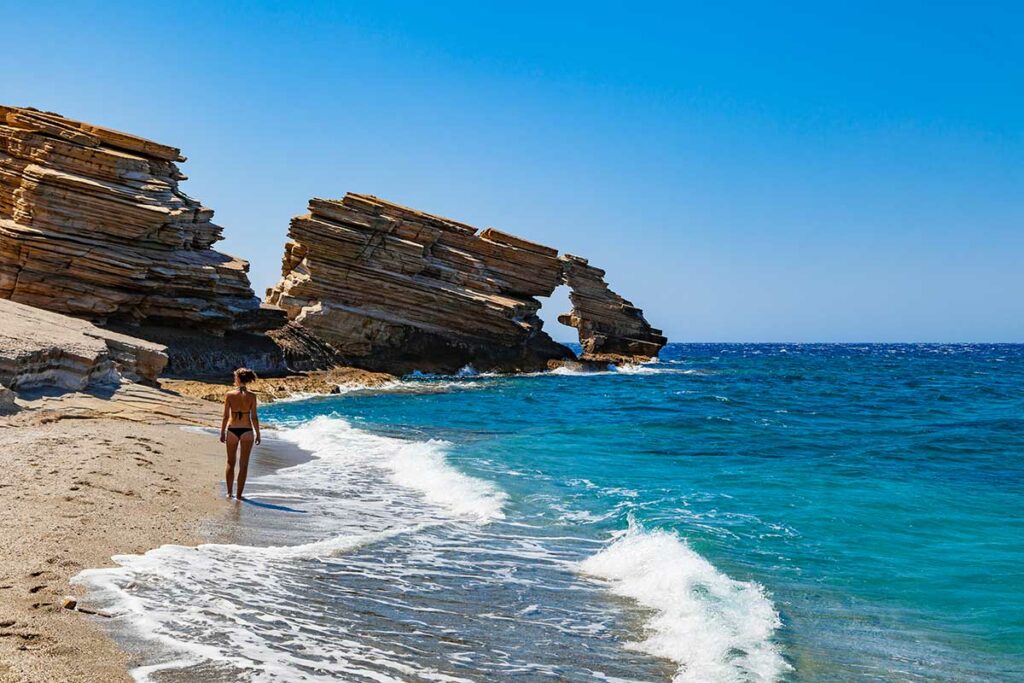 Rodakino Beach (Korakas Beach)
Rodakino is some 45 kilometers southwest of Rethymno city, at the exit of the Rodakino Gorge, a few kilometers west of Plakias. The village giving its name to the beach, is built on both sides of the gorge, forming two settlements, Kato (Lower) and Ano (Upper) Rodakino. The beach below the village is known as Korakas (koraka=crow), named for a rock formation that resembles a crow.
The word rodakino means peach, for the trees growing here despite the dry climate and soil. Rodakino has a long beachfront, with several beaches that retain a unique traditional atmosphere, tranquility, and striking natural beauty. You will find sunbeds and umbrellas for rent and plenty of room to lay down your beach mats and sunbathe unperturbed by tourist crowds: even in high season, this beach is relaxed and peaceful.
In this area, you can visit several churches and even hike the Rodakino – Kryoneritis – Alones trail on Mount Kryoneritis. Canyoning in the Rodakino Gorge is another activity for adventure seekers and nature lovers; however, note that it is not suitable for beginners, as it has a high difficulty level.
Rethymno has many other beaches, some easier to access. You can discover more of the region's secret beaches and enjoy your time in the sun far from the tourist crowds.