Soak Up the Sun and Relax in The Syntopia Swimming Pool Area
At The Syntopia, the swimming pool area is a haven for relaxation and fun. Immerse yourself in the refreshing waters while basking in the warm Mediterranean sun, all while experiencing the chilled, gypsetter atmosphere The Syntopia is renowned for. With comfortable spaces to seek shade, including palm trees, tipis, and stylish wooden cabanas, you can find the perfect spot to unwind. When visiting in April, May, or October, you can still enjoy a dip in the back pool, as we keep it heated during these months.
The Syntopia Hotel Crete Swimming Pool Area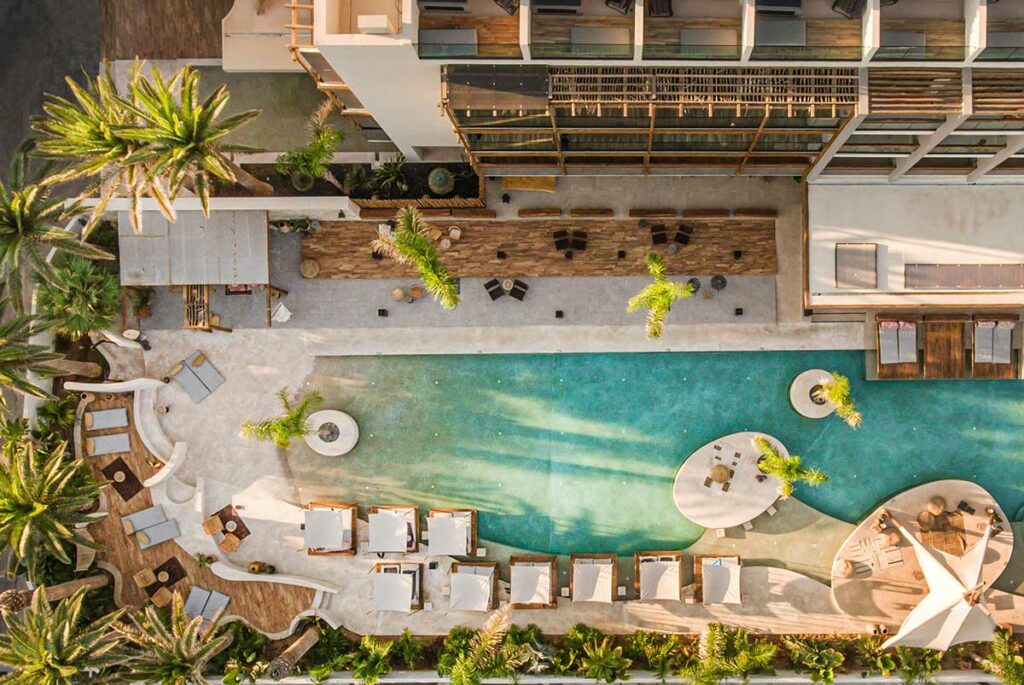 The swimming pool area is more than just a place to take a refreshing dip. It is a perfect spot to soak up the sun. The pool area offers a range of amenities to ensure a memorable experience for every guest.
Surrounded by beautifully landscaped gardens, the pools provide an oasis of tranquility. Whether you prefer lounging on a comfortable sunbed or stretching out on a stylish wooden cabana, plenty of options cater to your relaxation needs.
Dip in the pool and feel the cool water revitalizing your senses.
The poolside bar serves refreshing drinks and light bites, allowing you to satisfy your cravings without leaving the comfort of the pool area.
Unlike many other hotels, The Syntopia ensures guests can enjoy swimming even during the cooler months. If you visit in April, May, or October, you will be pleased to know that the back pool is heated, allowing you to take a dip even when the temperatures start to drop.
The Syntopia Hotel Crete swimming pool area is the epitome of relaxation, perfectly balancing sun-soaked leisure, and recreational activities.
Comfortable Sun Loungers and Umbrellas: When it is time to relax and bask in the sun, the swimming pool area offers an array of comfortable sun loungers and umbrellas. Take a moment to recline on one of the plush loungers, stretch out, and soak up the warm rays. With the shade provided by the stylish umbrellas, you can find a perfect balance between sun and shade, allowing you to enjoy the poolside atmosphere at your leisure.
Poolside Bar and Refreshing Drinks: Quench your thirst and indulge in refreshing beverages at the poolside bar. Whether you prefer a classic cocktail, fresh fruit juice, or a cool mocktail, the attentive bar staff will cater to your every need. Sip on your favorite drink as you lounge by the pool, immersing yourself in the relaxed ambiance of the surroundings. The poolside bar also offers snacks and fragrant shishas.
Poolside Dining for a Gastronomic Experience: For a truly gastronomic experience, The Canteen offers poolside dining options that will tantalize your taste buds. From light and refreshing salads to mouthwatering grilled delicacies, the poolside dining experience at The Syntopia features a seasonal menu with locally sourced produce and inspired recipes.
Activities at The Syntopia Swimming Pool Area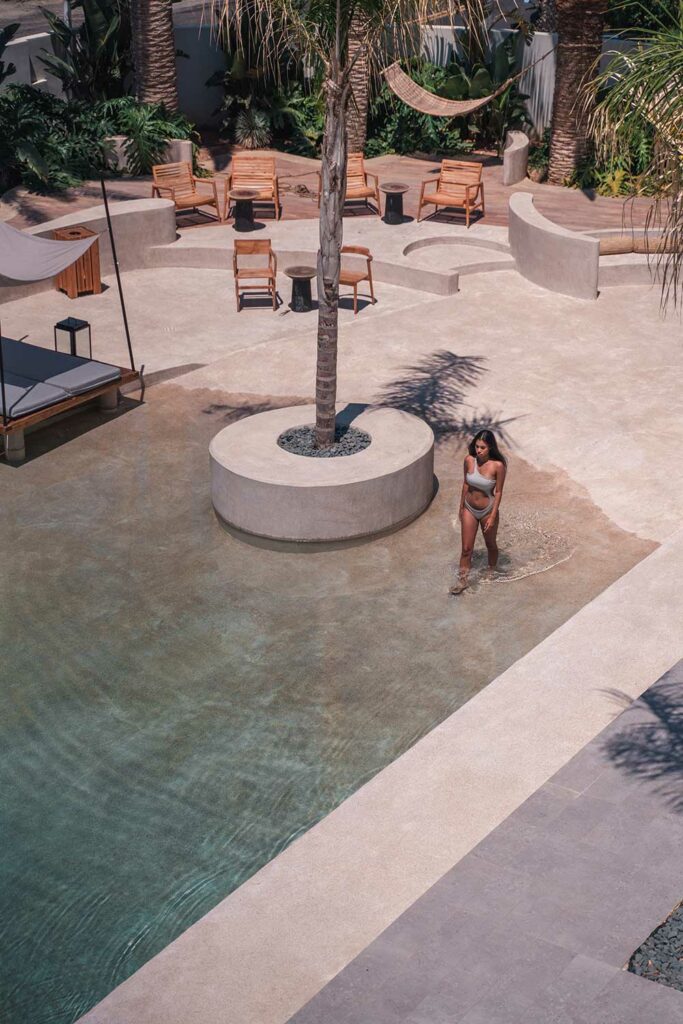 When it comes to enjoying your time at the Swimming Pool Area, there is no shortage of activities to keep you engaged and entertained. Whether you want to join a yoga or fitness class or relax by the pool, The Syntopia has you covered.
Join in on the aqua aerobics' sessions conducted by expert instructors. These dynamic water-based exercises are a terrific way to stay fit and offer a refreshing and low-impact workout.
Syntopia understands the importance of wellness and offers a range of yoga and fitness classes for guests who wish to rejuvenate their minds and body.
Poolside Yoga: Start your day with a tranquil poolside yoga session. Feel the sun's warmth on your skin as you flow through rejuvenating poses, finding balance and inner peace.
Meditation: Join us for our weekly meditation sessions if you enjoy maintaining a peaceful state of mind. These gatherings are a wonderful way to celebrate the essence of Syntopia life. For additional information, please inquire with our friendly staff.
Fitness: Maximize your workout by utilizing cutting-edge machines, weights, and a low-impact exercise area. Whether you prefer cardio or strength training, our facilities cater to your fitness needs.
Safety Measures and Guidelines
When it comes to enjoying the stunning swimming pool area at The Syntopia, the health and safety of our guests is our top priority. We have implemented strict safety measures and guidelines to ensure a worry-free and enjoyable experience. From pool hygiene and sanitization protocols to rules and regulations for guests, we leave no stone unturned in maintaining a safe environment:
Regular cleaning and disinfection of pool surfaces, loungers, and shared areas.
Strict monitoring of water quality to ensure appropriate chlorine levels and pH balance.
Daily removal of debris and regular maintenance of pool filters.
Implementation of advanced filtration systems to maintain optimal water quality.
The swimming pool area at The Syntopia offers the perfect blend of relaxation and ambiance. Guests can bask in the warm sun while immersing themselves in the chilled atmosphere The Syntopia is known for. Whether you prefer lounging under the shade of palm trees, enjoying the comfort of a tipi, or relaxing in stylish wooden cabanas, there are plenty of options to suit your preferences. Even if you visit during the cooler months of April, May, or October, you can still enjoy a refreshing dip in the heated back pool. So come and soak up the sun at the Syntopia Hotel swimming pool area for an unforgettable experience.