Five Nudist Beaches in Rethymnon and Chania
Whether you are a seasoned naturist or simply curious to explore a different kind of beach, the following five destinations offer an array of options to suit every preference.
Kedrodasos Beach, Chania
Kedrodasos Beach is a stunning seaside destination 76km southwest of Chania and just 1km east of the famous Elafonissi lagoon. This beach is characterized by its abundance of juniper trees, often mistaken for cedars and its undulating dunes. The beach is home to small, twisted junipers, specifically the Juniperus oxycedrus macrocarpa and Juniperus phoenicea species.
With its white sandy shores and occasional smooth, flat rocks, Kedrodasos Beach is an idyllic spot. Moreover, the absence of nearby facilities adds to its secluded charm, making it one of Europe's last untouched paradises. As a result, it is essential to keep the beach clean and avoid littering.
Soft, white sand and a vibrant turquoise sea await those who visit this beach. While Kedrodasos Beach lacks organized facilities, it has recently gained popularity and become a trendy destination. Unfortunately, this newfound popularity has discouraged naturism enthusiasts, who found a more secluded area approximately 1km further east. This area, known as Agios Ioannis, boasts three different shores that are entirely naturism friendly.
Krios Beach, Chania
Krios Beach is 10km west of Paleochora and 90km south of Chania city, on the eastern side of Krios Cape. The beach stretches for about one kilometer of three consecutive bays, each with a mix of fine pebbles and coarse sand.
The first bay is rocky and not ideal for swimming. The central bay is the busiest section of the beach, although it is still relatively quiet. Here, you will find a parking area, a small canteen, and umbrellas for shade. The third beach is located on the western edge of Krios, just a two-minute walk, hidden by a large rock. This is the part favorite among nudists as it offers excellent privacy. Umbrellas are also available here. If you prefer not to pay for an umbrella, you can find some hollows in the surrounding rocks that provide shade.
Krios Beach is a popular destination for various activities. Visitors can enjoy camping, swimming, snorkeling, and hiking. The beach provides designated camping areas with toilets and showers, allowing visitors to spend the night under the stars. Snorkeling is also a popular activity due to the diverse marine life in the waters surrounding Krios Beach. Renting snorkeling equipment is an option, allowing you to explore the colorful fish, coral, and other sea creatures beneath the surface.
Additionally, visitors can venture along the many trails around the beach to beautiful viewpoints overlooking the sea and landscape.
To reach Krios Beach by car, you can travel through Paleochora. Additionally, Krios is conveniently located near a section of the E4 European footpath that connects Paleochora with Elafonisi.
Glyka Nera Beach, Chania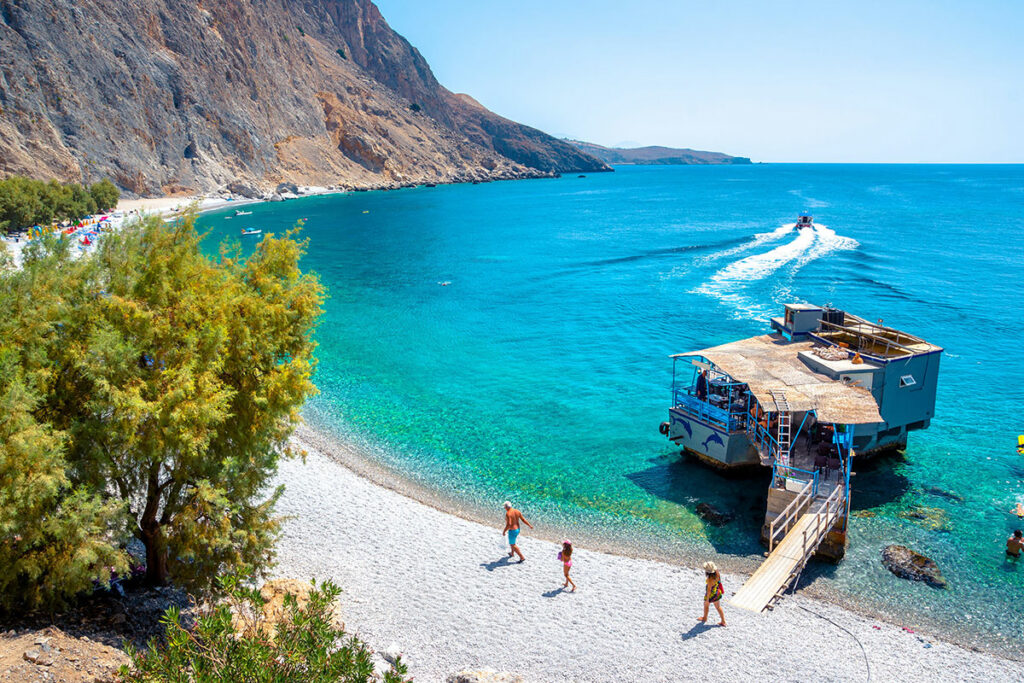 Glyka Nera, meaning "sweet water," is a stunning beach 4km west of Chora Sfakion and 75km south of Chania. The beach gets its name from the freshwater that gushes out from the pebbles.
Typically, the only way to reach Glyka Nera is by boat. However, for the more adventurous individuals, a path from Chora Sfakion takes approximately 30 minutes from the parking above Iligas Beach. Another hiking trail from Loutro will take around 60 minutes, but hiking near the edge can be pretty strenuous. Despite the challenging terrain, the path is safe as local authorities regularly maintain it as it is part of the European E4 footpath.
Despite the difficult access, Glyka Nera is popular and tends to get crowded. You will find numerous sunbeds and umbrellas in the summer. In the quieter months – from November until March, this pebbled beach tends to be deserted, and you can find shade under the tamarisk trees.
As with most beaches along the south coast, the water at Glyka Nera can be chilly, but it is clean and clear, making it an ideal spot for snorkeling.
Ammoudaki Beach, Rethymno
Adjacent to Klisidi, you will discover a remarkable nudist beach called Small Ammoudi or Ammoudaki. Nudists highly favor this compact beach due to its crystal-clear turquoise waters and stunning white sand. Additionally, there is a small beachside canteen that provides umbrellas and sunbeds. Towards the beach's western side, you can swim to a cave where the sunlight casts a vibrant blue hue onto the water.
The sandy seabed is easily traversable, and at the opposite end of the beach, there is an underwater passage connecting Ammoudaki to Klisidi. Transitioning between the two beaches only requires a simple dive. To access Ammoudi's beaches on foot, merely stroll east from Damnoni until you reach Ammoudaki. It is important to note that this beach is widely recognized as one of Crete's most famous nudist beaches, attracting predominantly naturist visitors. Ammoudaki is in the southern part of Rethymno, close to the Plakias area.
Ligres Beach, Rethymno
Ligres Beach is 51km south of Rethymno and 7km south of the village Kerames, at the foothills of Siderotas mountain. This beach has a vast expanse of sand and pebbles, and it is, in fact, the northern part of the beach known as Akoumiani Gialia, which stretches from the Mellissa Cape in the south.
The sea is deep and can be chilly (as is typical for most southern beaches).
Naturist enthusiasts will find a great spot to shed their clothes at the nearby Katsouni Beach, between Agia Fotini and Ligres.
Tall stone walls surround the beach, providing privacy and discretion. However, there are many areas on the vast Ligres Beach where you can swim nude.
The beach could be more organized, but taverns and a few rooms are available on the western part of the beach, which can be reached by car via a poorly paved road.
At the beach's western end, a stunning waterfall flows year-round and cascades into the sea.
It is worth walking along the beachfront towards Triopetra, reaching the Xiromilia area with its jaw-dropping rock formations.
Rethymnon and Chania in Crete offer some of the most beautiful nudist beaches for naturism enthusiasts. While nudism is not officially allowed in Greece, these hidden coves provide a discreet and welcoming environment for those who enjoy sunbathing and swimming without clothes. So, get ready to strip down, relax, and enjoy the freedom of nature at its finest.