Cretan Christmas Traditions
The Cretan Christmas traditions follow the rules of the Greek Orthodox faith with some critical secularization elements somewhat similar to international customs; for example, there will be non-traditional Christmas lights everywhere and Christmas trees.
Karavaki – Christmas Boats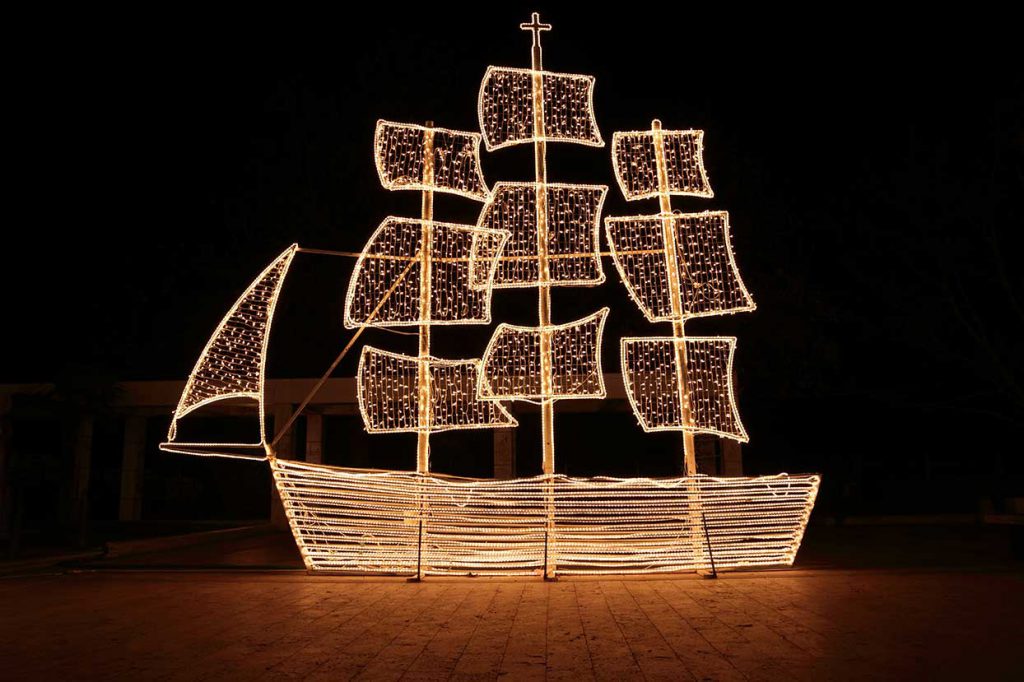 All over Crete, particularly on the coastlines, in every village – usually at its main entrance – you will see small boats decorated with Christmas lights. These are the "karavaki," traditional, maybe because Christmas trees do not naturally grow on the island and are a replacement of sorts.
Sure, Christmas decorating an olive tree would make sense, but boats give the place a sense of identity. And let us not forget that St. Nicholaus (aka Sant Claus or Saint Nick) is the patron saint of sailors; so, karavaki would be a tribute to the sea and its seafarers too.
Crete – and many other Greek islands in the Aegean Sea – owe a lot to the sea and the brave seafarers making ends meet from its bounty. So, honouring them and the sea with bright karavaki at Christmas makes sense.
Agios Nikolaos and Agios Vasileios Instead of the Western Santa Claus
Although Santa Claus is Saint Nicholas and Agios Nikolaos is the Greek name for St. Nicholas, the day Cretans honour the saint is December 6, not December 25. And yes, Agios Nikolaos brings presents, usually sweets and fruit, but not oddly expensive or extravagant gifts.
Then, Agios Vasileios is the Cretan and Greek equivalent of Santa Claus. He does come down the chimney, but not on December 25. Instead, you will meet him on New Year's Eve when Cretans exchange symbolic gifts and make donations to charities.
Naturally, children will receive the "expensive" stuff, but the focus still is on the true meaning of giving, which is bringing a family together in harmony and helping those in need.
Do children receive presents on Christmas day? Of course, although they did not traditionally, they do these days. But the Cretans preserve their traditions too, so the little ones receive gifts three times in December: St. Nicholaus on the 6th, Christmas Day, and New Year's Eve.
Christopsomo – Christ's Bread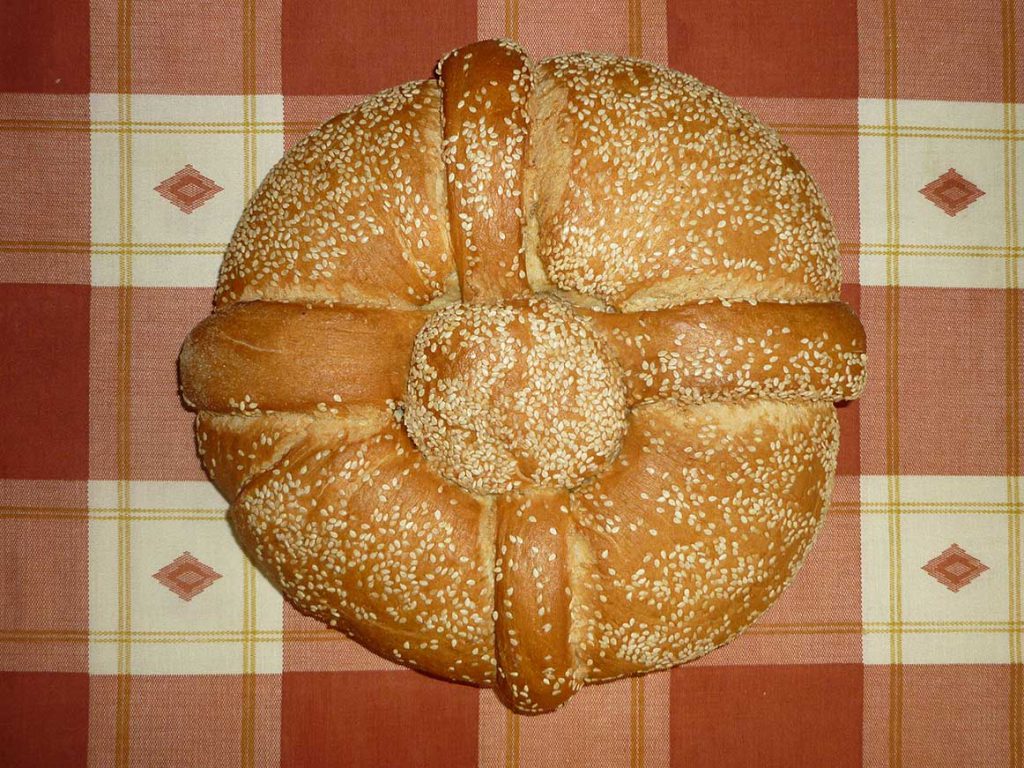 Cretan women bake the blessed bread of the Christmas table, Christopsomo (Christ's Bread), on Christmas Eve. It is a sweet bread with sugar, honey, sesame seeds, almonds, and walnuts. For aroma, bakers can use anything from orange and mastic to vanilla, rose water, cinnamon, and cloves, although mahleb (an aromatic spice made from cherry seeds) and anise are mandatory.
You can find a recipe on My Greek Dish if you want to prepare it at home when you are not on Crete Island at Christmas. Note that the spices may vary from household to household. However, the mantra "Christ is born, the light rises, so the yeast will come alive" accompanying the kneading process is a tradition of Crete.
Christopsomo can be simple but always has a cross decoration in the middle. More intricate designs may include walnuts and almonds as symbols of the land's bounty and other motifs, including grapes (made of dough), wheat, flowers, birds, olive branches, etc., depending on that household's trade and craft.
The head of the family blesses the Christopsomo on Christmas day, then serves it to the diners in a fashion symbolic of Christ's sacramental vow: "I am the bread of life; whoever comes to me shall not hunger, and whoever believes in me shall never thirst." (John 6:35)
Christmas Sweets: Melomakarona and Kourabiedes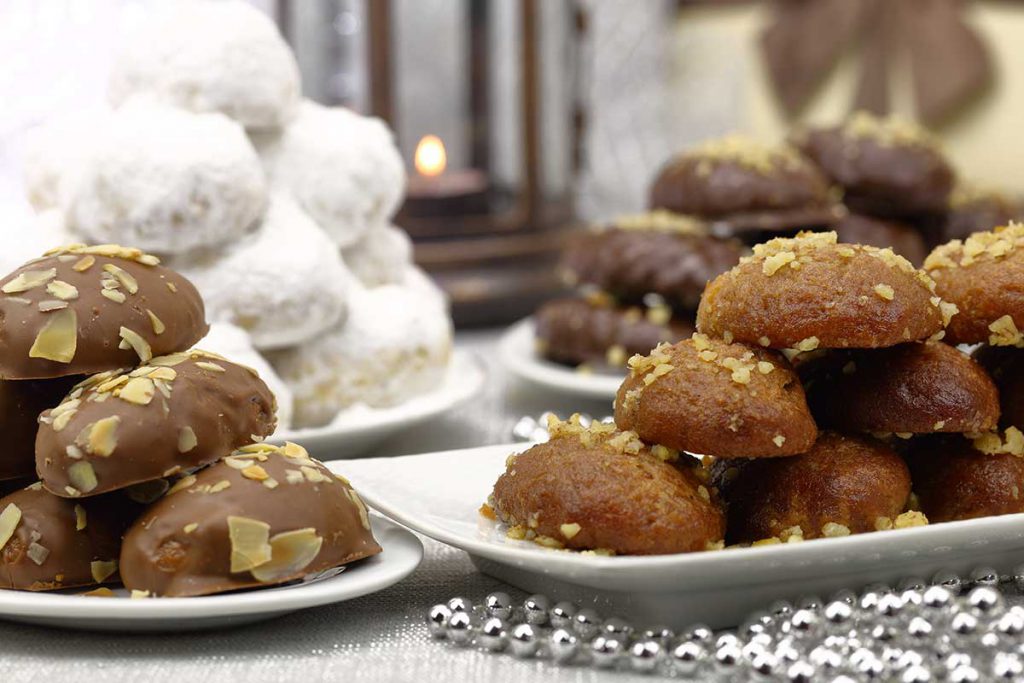 Melomakarona are cinnamon-flavoured traditional Christmas sweets. Their name is a portmanteau of honey and macaroni, where macaroni derives from the ancient Greek word "makaria" – an egg-shaped piece of bread offered after funerals.
However, the old meaning is lost in the sands of time. Contemporary usage sees the ancient bread dipped in honey; hence "meli" precedes makaria in the portmanteau.
Check out a melomakarona recipe on My Greek Dish if you want to bake it at home when you are not on Crete Island. If you are here, you will find melomakarona in every household and bakery on the island. Some restaurants will serve a complimentary melomakarona dessert too.
Kourabiedes is similar to the Arabic kurabiye sweet: flour, butter, almonds, and powdered sugar. They work excellently with tea or coffee, and although traditional for Christmas, they entered the Cretan cuisine more recently than melomakarona. Here is a recipe.
Besides these traditions, you will also find carols accompanied by Cretan lyra and a generous spread at the Christmas table, where pork dishes play an important role.