Crete's Top 5 Places to Relax and Unwind
Lazy days at the beach, high-octane adventures off-the-beaten-path in the mountains, and the islanders' sweet naïveté and love of strangers (the celebrated Cretan philoxenia), are all checkboxes for soul detox and clean living in this modern age when we seem to appreciate more the fleeting conveniences of our daily routines rather than paying attention to traditional values.
The following five places are tranquil and scenic, albeit some are famous enough to attract flocks of tourists. Expect landscapes that inspired painters and poets over the years. Turn off your WiFi and your phone, and allow a few hours of pure bliss to pass you by. Crete will tame your fears, ease your worries, and detox your soul all at the same time.
1.  Triopetra Beach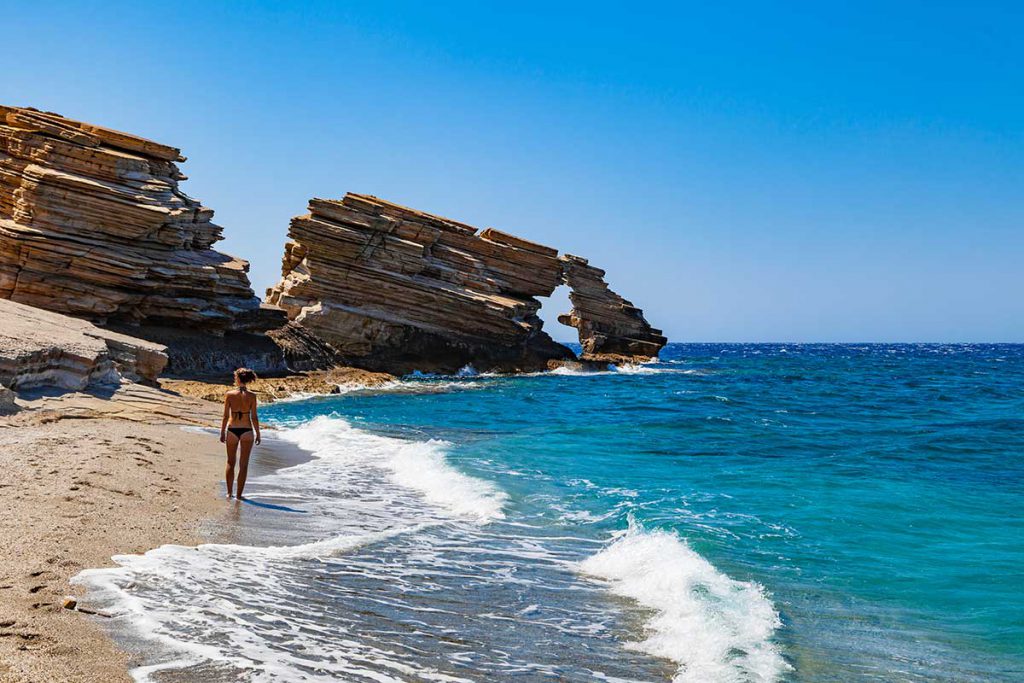 Remote yet lengthy and well-organized, Triopetra Beach on the southern coast of Crete redefines your idea of detox destinations.
Someone photographed a handful of varicolored pebbles once here and posted the picture on social media, touting it as a snapshot of Triopetra's magic.  They applied fancy filters and irresistible hashtags to promote the image. A large part of the WWW community embraced it and reshared it so often that the beach's geo-location was lost. But Triopetra – 52 kilometers south of Rethymnon – is more than a postcard-worthy snapshot.
The beach's name translates into English as "three rocks," a literal description of the natural border that splits the beach into Koumado and Agios Pavlos beyond a small peninsula. It is a perfect place to relax, and there are no entertainment options here. Just two small tavernas and a beach bar cater to those hungry sun chasers who adventure down the steep road leading to this beguiling stretch of pebbles and sand. For the most romantic visitors, nature rewards with a fairytale-like sunset of golden colors.
The water is clear and deep, perfect for experienced swimmers and snorkelers. You will not find many sunbeds and umbrellas to rent at Triopetra – so come prepared with beach paraphernalia of your own.
2.  Komos Beach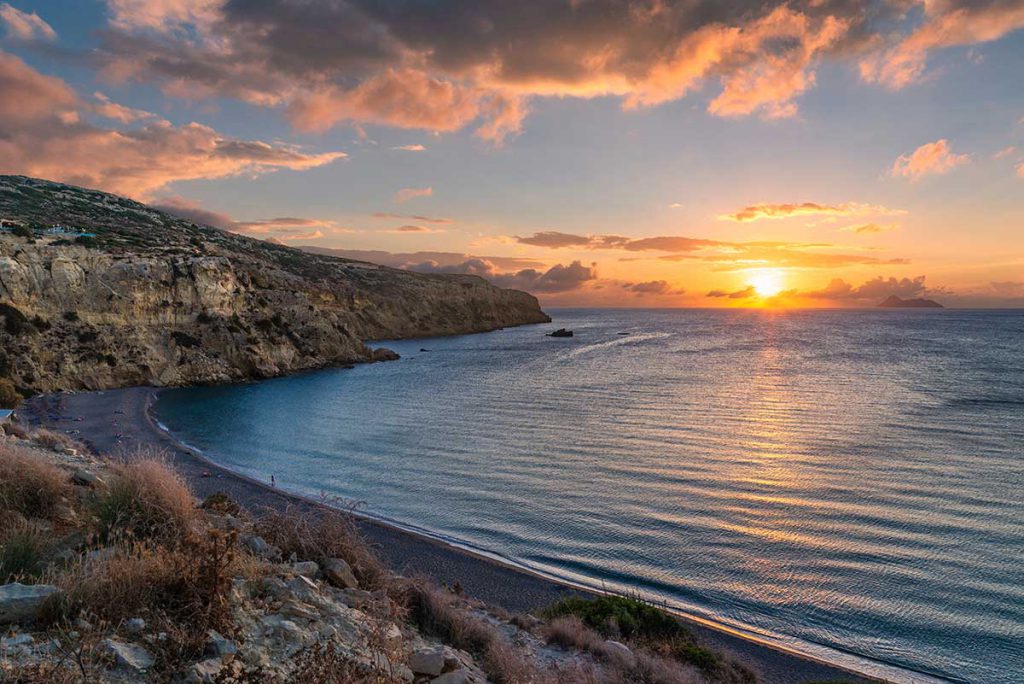 Komos Beach (also spelled Kommos) lies on Crete's southern coast, some two kilometers north of Matala, near the small Pitsidia village in the Messara Bay. In ancient times, Komos was the port of Phaestus – and the ruins of a Minoan settlement once thriving here keep quiet testimony of the place's importance in ancient times. But the archeological site is not open for the public, so those who want to enjoy a secluded beach steeped in history, don't need to worry about tourist crowds.
The beach itself is rocky and wild, a protected archeological and natural area in its entirety. Some beach areas are reserved for the loggerhead sea turtles (Caretta caretta) who come to nest and lay their eggs in its sand from May to September. It's not unusual to find metal cages placed over these nests to shield the eggs. Since the turtles lay their eggs in the evening, beach walks after sundown in the area are prohibited. If you happen to discover an unmarked nest, please contact ARCHELON, the Sea Turtle Protection Society of Greece, at +30 6937 352 379 or via email at archelon.crete@gmail.com. The volunteers will respond quickly as they camp in Matala.
Komos has an organized area on its southern side next to the archeological site. Here you will find sunbeds and umbrella rentals, lifeguards on duty, toilets, showers, and a small taverna. In the northern part of the beach, you'll find the naturist area. Wait till sunset to see the mesmerizing colors of the sky over the Paximadia islets in the distance.
3.  Agios Ioannis, Sfakia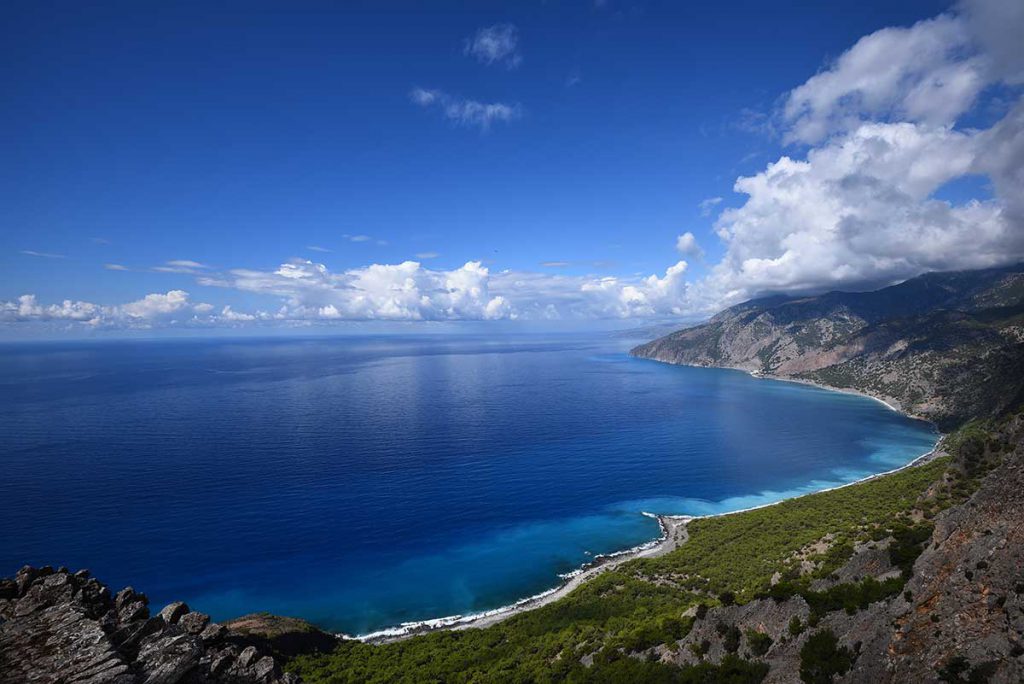 Agios Ioannis in Sfakia is one of the Cretan villages that played a significant role during the Cretan Orlov revolt (1770), a precursor to the Greek War of Independence (which erupted in 1821). The village was destroyed in 1770 and 1867. Today only some ten people populate its homes.
Agios Ioannis is a destination for couples who love seclusion in nature. It's also popular with hikers and nature lovers.
To reach the Agios Ioannis, take the Hora Sfakion – Anopolis – Agios Ioannis road. You'll pass through spellbinding landscapes and a pine forest before you reach the village. Here, the road ends, and you will discover a network of hiking paths that invite you to wander. One of the popular routes is Agios Ioannis – Selouda – Agia Roumeli, which offers a 10 kilometers hike through landscapes you will never forget. You'll walk through a pine forest to Selouda, where you should stop to admire the magnificent vistas of the Lefka Ori and the Libyan Sea. From here, an ancient paved path descends to Agios Pavlos beach, or you can stop for lunch at a small tavern. Only four more kilometers are distancing you from Agia Roumeli, the end of your journey. Return to Hora Sfakion by ferry.
4.  Gavdos Island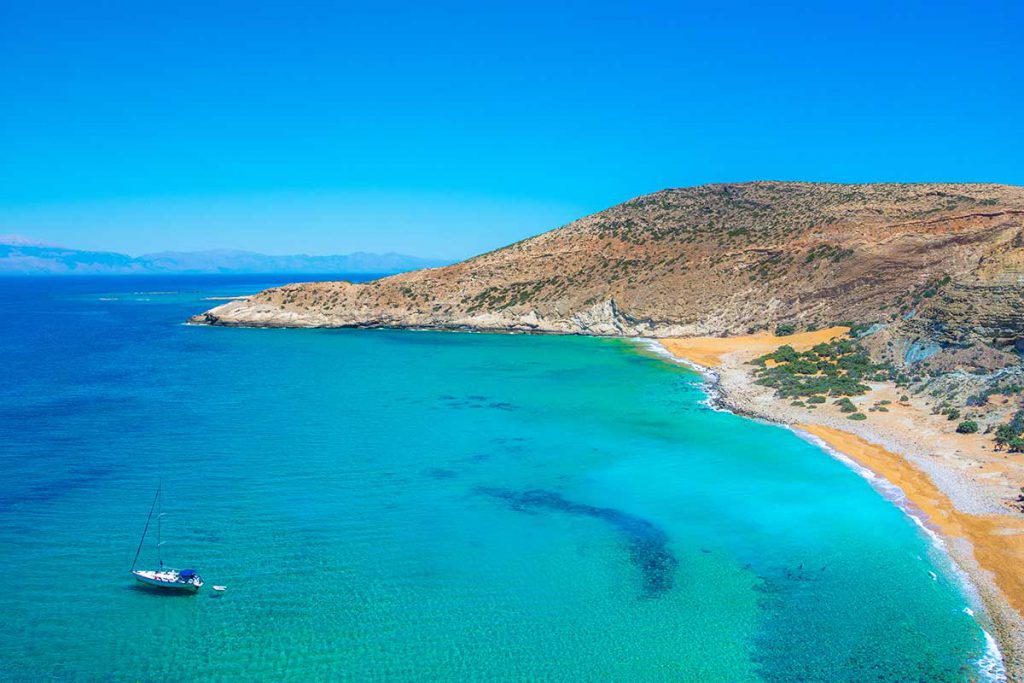 When you vacation on Crete, a trip to Greece's southernmost island is a uniquely romantic escape. The remote island is 48 kilometers south of Hora Sfakion, where you can find the ferry to take you there. The trip will last one hour and fifteen minutes. The weather and landscape of Gavdos are similar to Ierapetra on Crete. The beaches are wild, alternating sand and rocks, where small shrubs and junipers find the ideal habitat.
Although fewer than 50 people live permanently on the island, the tourist season sees more than 3000 campers and day-trippers enjoying the laid-back atmosphere. Gavdos is the ideal destination to escape Crete's crowded beaches and enjoy pristine, unadulterated nature at its best.
The island is small – about nine kilometers long and some five kilometers wide. You can explore it easily on foot without fearing that you will get lost. All walks and hikes here have the stuff of romance, as the landscapes are beyond beguiling. The southernmost beach, Trypiti, is just seven kilometers south of Karave – the island's harbor. Here you will see the famous Kamarelles arches and a concrete chair, which symbolizes the southernmost point of Europe.
Access to Trypiti is only possible on foot – on a splendid 3.5 kilometers hike from Korfos beach.
5.  Loutro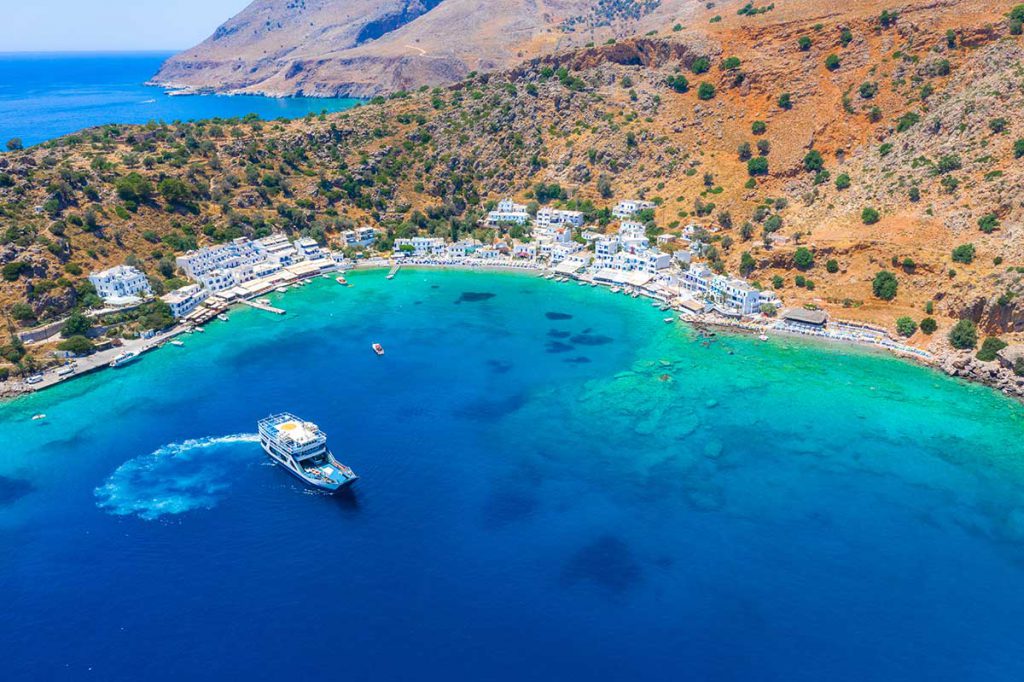 Loutro is a scenic seaside village in Crete's Chania regional unit, between Hora Sfakion and Agia Roumeli. Although remote and considered part of "hidden Crete," the settlement has a long history. It was the port of ancient Anopolis in Hellenistic and Roman times, then a base used by the Saracen pirates to attack southern Crete, and finally a defense base against the pirates during the Venetian occupation of the island.  Today, just about fifty whitewashed buildings overlook a quaint bay with clear water and views that take your breath away.
Set at the end of Cape Mouri, Loutro is accessible by boat or on foot. No roads are leading there, the traffic in and around the village is exclusively pedestrian. Because of its remote location, Loutro is never overcrowded, although it does attract many tourists seeking peace and tranquility. There are several beaches close to the village, Glyka Nera to the east being a favorite among visitors and locals alike. Although unorganized, Timios Stavros and Pervolaki are worth seeing for their unadulterated landscapes. Most beaches close to Loutro are favored by naturists.
There are no big hotels, just flats and rooms to rent, and for dining, you have a choice of five tavernas serving fish and typical Greek fare. You can spend lazy days at the beach, gazing at the sea from the harbor, or hiking around the countryside.
The main landmark you should not miss is the Koules of Loutro — the ruins of a Turkish defense tower dating from 1868. The ruins are not spectacular, but you will get a sense of history, and the views are rewarding too.