The Best Cretan Souvenirs to Bring Home
When you visit Crete, you cannot leave empty-handed. Of course, you will make memories and can snap as many pictures as you want, but buying souvenirs for your home, friends, and family will make your "feel" of Crete last longer. Besides, some of these souvenirs have exceptional artistry unavailable anywhere else in the world. Here are some of the best Cretan souvenirs to bring home:
Traditional Cretan Kopaneli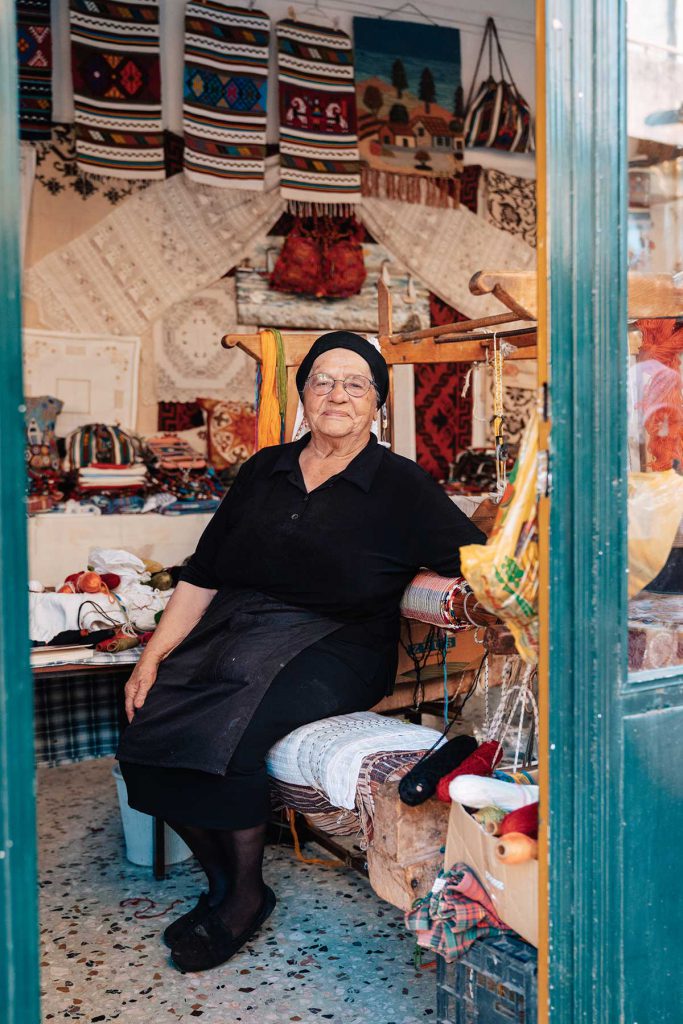 Kopaneli (bobbin lace) is one of Crete's oldest traditions, with origins lost in time. It began spreading at the beginning of the last century with a non from the Holy Monastery of Korakion in Akrotiri, Chania, educated in Athens.
Today you can see many grandmas practicing this art in plain sight in Gavalochori. You can also visit The Historical and Folklore Museum of Gavalochori to admire an entire wedding dress made with kopaneli lace.
In addition, you can purchase the lace in traditional arts and crafts souvenir shops and from street vendors in tourist areas who showcase their skills for all to admire.
Traditional Cretan Knives
As odd as it may seem, the knives are symbols of hospitality and friendship for Cretans – especially those that feature a Mantinada on the blade.
You can trace the history of the Cretan knife back to the Minoan era, although the more modern versions began appearing during the Middle Ages. It is also worth mentioning that according to Cretan legends, the Kourites, seven giant half-gods, made war helmets and weapons for the gods; therefore, they are considered the inventors of the Cretan knives.
However, the Cretan dagger as we know it today, the saita, was first forged in the 18th century.
If you are a connoisseur, you will appreciate the handmade Cretan knives. Albeit pricey compared to other Cretan souvenirs, the saitas are great gifts for connoisseurs and are valuable collectibles.
Cretan Sariki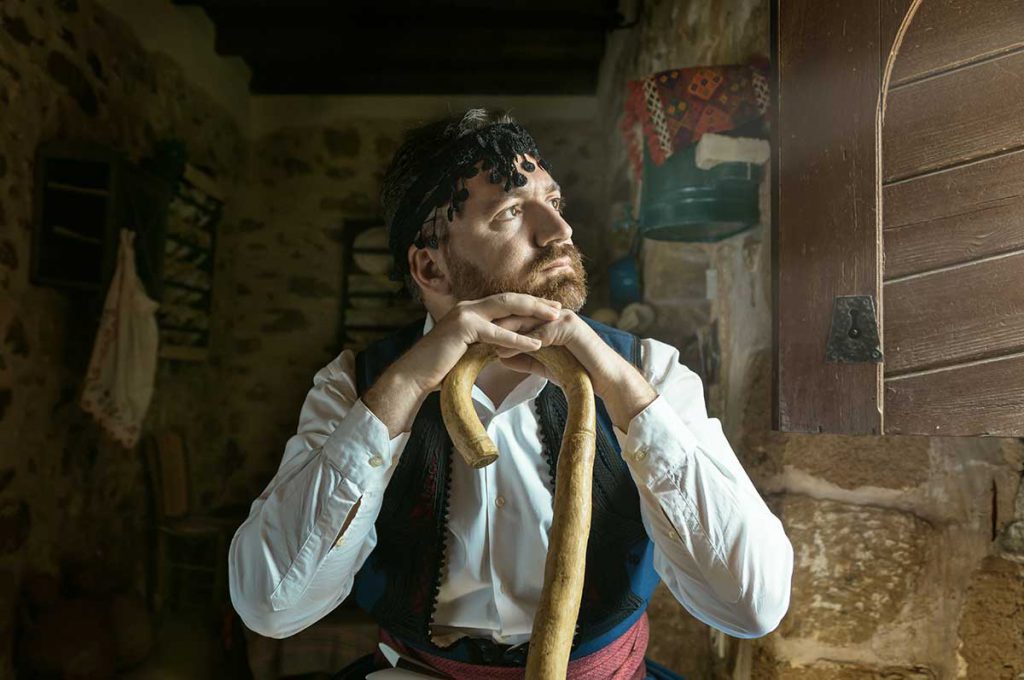 The sariki is a white or black scarf where white is for joyous occasions, while black is for mourning. You can wear it on your head with the edges flowing gracefully around or on your shoulders.
It is important for Cretans as it symbolizes their resistance during the Turkish oppression on the island.
Although you will find sariki in all souvenir shops, you will rarely see it worn unless you attend a folk show. Essentially, the sariki is part of the traditional Cretan folk costume.
Cretan Pottery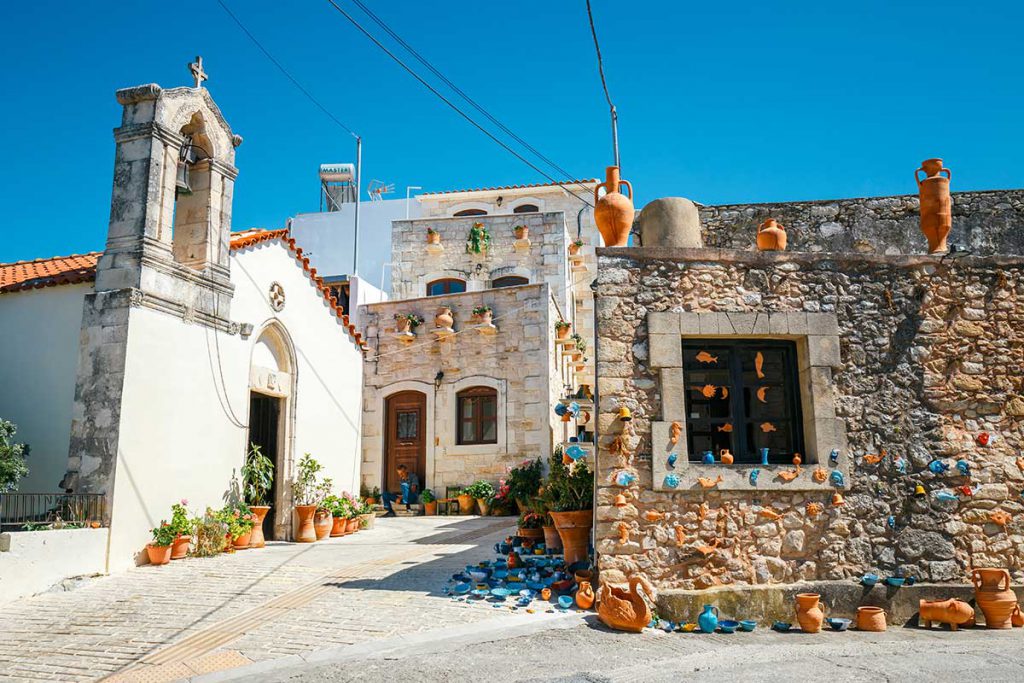 You cannot leave the island without an authentic Cretan pottery item. The best-known areas for pottery are the villages of Thrapsano and Margarites. In both villages, you will find ceramic studios and see the artists at work.
You can buy all kinds of handmade products, including replicas of Minoan ceramics, traditional Cretan pottery, or authentic contemporary creations. You can also find Cretan pottery in souvenir shops but look for some with a certificate of authenticity.
Cretan Olive Wood Products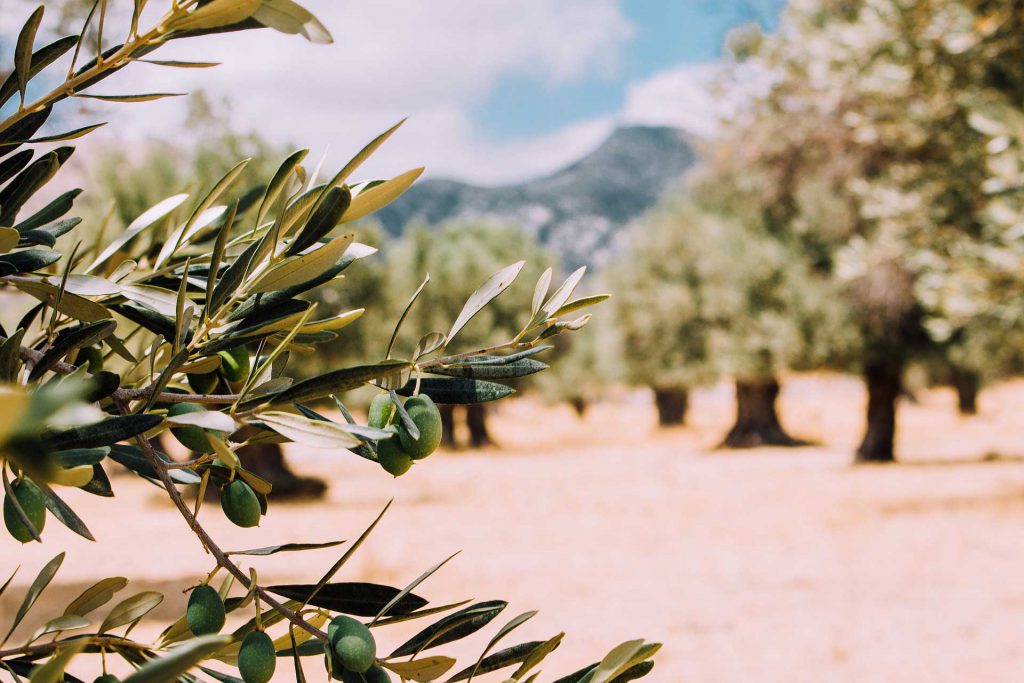 Cretans do not waste anything that comes from their beloved olive trees. As a result, you can find on the island entire artisanal shops selling exclusively olive wood products – anything from cutlery and kitchenware to sculptures, chess sets, toys, and so on. They make excellent souvenirs, and some, particularly kitchenware, are particularly useful in your household. Olive wood products are also available in souvenir shops across Crete.
These are just five of the best Cretan souvenirs to bring home. In addition, of course, we cannot forget Cretan olive oil – highly appreciated for its nutritional value, Cretan honey (try to find thyme honey), local herbs and spices, Cretan raki (tsikoudia), Cretan sweets, Cretan olives, and Cretan wines. Finally, Cretan wool products are also in high demand, especially those made on the Cretan loom.