Unwind with Your Other Half in an Adults-only Paradise
Crete has a wealth of superb hotels and resorts, but most are family-friendly, designed to accommodate vacationers young and old. Unfortunately, very few of these properties have facilities, amenities, and services that cater to an adult-only group of holiday-makers. The Syntopia Hotel is an exception.
With swanky gypset vibes, a stellar location on the beach in Adelianos Kampos, plus activities and entertainment strictly for adults, the Syntopia is more than a hotel: it's a lifestyle.
The Syntopia Adults-only Hotel is close to many landmarks, sights, activities, popular beach bars, tavernas, and other attractions. In addition, it has exceptional, swanky-chic facilities within its grounds: pools, bar, restaurant, and a new canteen serving street-food favorites from around the world.
Here are the three top Syntopia advantages and reasons to unwind with your other half in our adults-only paradise:
Foodie Cuisine
The hotel's main restaurant has a buffet-style arrangement with healthy food options like salads, mains, and desserts, all fixed by talented chefs with the best and freshest local ingredients.
The new canteen is an international street-food experience inspired by different regions, countries, or cities where people flock to taste something simple and delicious. Although most of these iconic dishes are quick to prepare, this is not fast food but a cultural journey and a foodie discovery mission.
When you feel parched or in the mood for delightful libations, you can stop by the bar, grab your favorite drink from the bar, relax by the pool, or wherever you feel comfortable at the Syntopia hotel.
Glamorous Gypset Living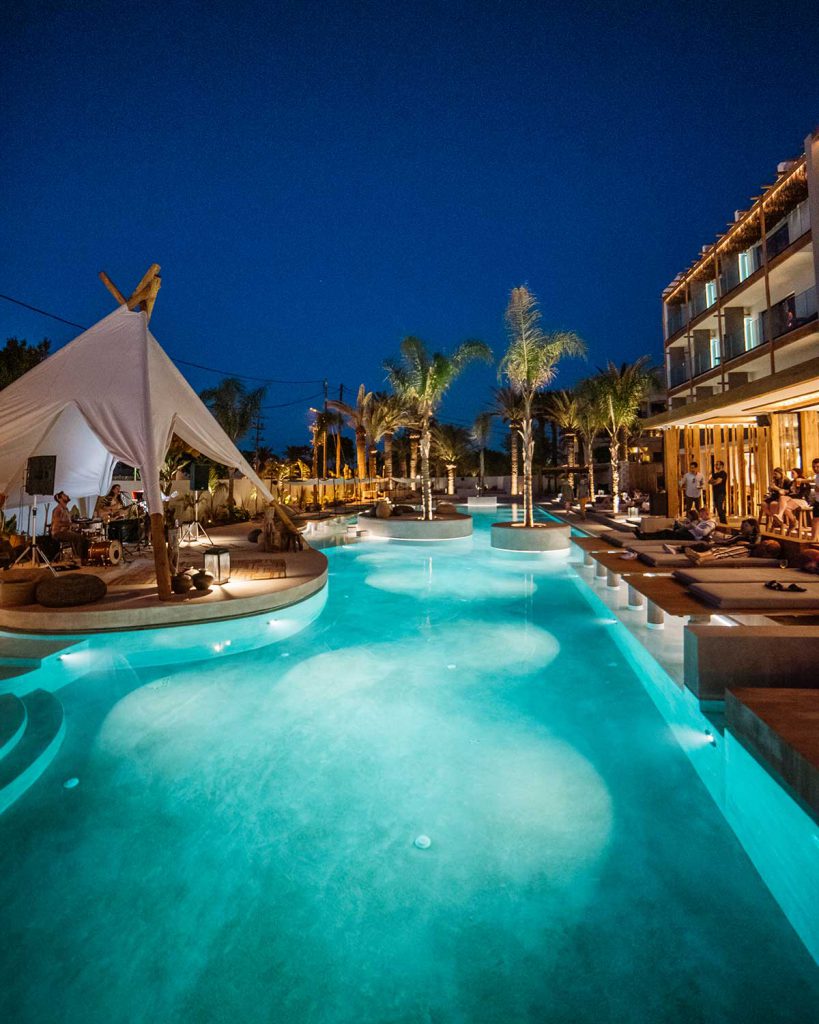 A glamorous gypset lifestyle encompasses luxury, a nomadic free spirit, and the guilty pleasures of the bons vivants. The term gypset, coined by American journalist and author Julia Chaplin, merges "gypsy" and "jet set." As she explains it:
"Gypset literally means a gypsy, jet-set, seminomadic, bohemian approach to life. It's an identity search fusing my hippie upbringing with the life I have created in the city."
The Syntopia delivers just this kind of an experience, by the sea, steps from a quaint beach. Everything from the interior décor of the rooms to the shared areas of the hotel, including restaurants, the bar, and pools, reflects this philosophy.
Imagine wicker chairs, soft white walls, natural color accents, a minimalist ambiance to elevate your zen, prime bedding, plush towels, and organic complimentary personal care cosmetics in every room. You have hi-speed free WiFi to share your Cretan gypset lifestyle experiences. Speaking of which…
Hipster Experiences
Discover the Syntopia universe and enjoy the zen lifestyle you deserve. Swim in the main pool during the hotter months, choose the heated pool when the weather turns cold, let the breeze caress your skin while you rest in a private cabana, and sip a refreshing drink under the exotic shade of a palm. Of course, we have tipi huts, too. Just because.
Weekly yoga and meditation foster deeper, more meaningful connections with your inner gypsy or jet setter. On the wilder side, we have an open-air cinema where you can enjoy classics and blockbusters while nibbling on savory canapés, popcorn, or other creative treats and refreshments.
And you deserve the spa: A true Cretan Aegeo experience. Expect custom and signature treatments, premium body care cosmetics, licensed professionals, and genuine hospitality. Of course, we have a state-of-the-art gym and fitness area too.
To further your zen and amplify your gypset lifestyle, we offer weekly yoga and meditation sessions.
If you want to know what goes on in Rethymno or another destination: you'll never get lost on Crete island.