Explore Hidden Crete: The Amari Valley
The Amari valley is one of Crete's best kept secrets. And guess what? It's right on Syntopia's doorstep.
A gorgeous 30 minute drive south, skirting Lake Potamos, takes you through one of Crete's most beautiful landscapes to get to the valley – gentle at first, with tiny roadside villages, but as the road weaves its way, the ever growing Psiloritis mountain, Crete's highest, looms to your left.
Once you're passed the villages of Patsos, and Thronos (explore the Agia Panagia church at Thronos to find wonderful 14th-century frescoes; the key is available at the kafenion next door) you're in the valley for real, 500 metres above sea level.
At Agia Fotini you'll experience one of the 'busiest'. There are all of two mini-markets here, a pharmacy, a taverna and a petrol station. The next village, after Scholi Asomaton, known as Nefs Amari, has a simple taverna and a lovely renovated old school, open in summer as a folk museum. Climb the old church bell tower for great views.
The E4 Walking Path meanders through the Amari and hiking here is idyllic and particularly suited to nature lovers wanting gentle routes. Lost in the olive groves, ancient Byzantine chapels appear, echoing the spiritual history of a valley that was known as Lotus Land by British secret agents based here in World War II.
There are two recommended tavernas at Meronas – the delightful Moschovoles and Alona. The taverna Aravanes at Thronos with its sweeping views down the valley sells local artisanal products
Other villages worth stopping include Fourfouras, and the historic Kedros villages that run along the crest of the Kedros mountain at the valley's western edge. Gerakari is famous for it delicious sweet cherries and has good coffee shops.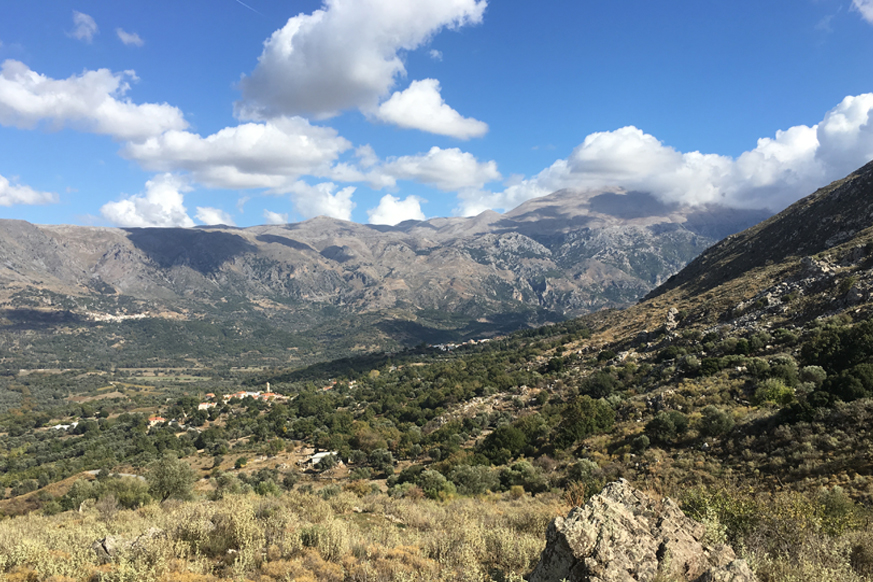 The Amari is a magical labyrinth of country lanes shaded by cypresses, oaks and pines, a tapestry of pristine nature connecting tiny hamlets largely untouched by tourism. Between the villages, patchworks of fields, of citrus orchards and vines, lie beside some of the oldest olive groves in Europe. Every road, every path here opens its own door to history. A good source of information on local history and culture are to be found on display panels at the entrance to most villages.