Rethymno old town: Cool places and fave hang-outs
Rethymno's old town is one of the most intact medieval towns in the Greek islands. Great gastronomy, fascinating historical features, and fine artisanal products are all to be found in an area less than a square kilometer.
A stroll in the old town is a highlight of any visit to Crete's most alluring city, but walking its enchanting alleyways is best done in the relative cool of the morning, or evening, when its ancient alleyways exude a magic like nowhere else in Crete. Start your visit before mid-morning and you'll miss the crowds, while an evening stroll has its own particular charm. Either way, a walk here, touching history, and taking refreshment on the way, is the perfect aperitif for a truly memorable lunch or dinner.
Heavenly History
The old town has to be explored on foot, there's no other way. And a great place to start, for history buffs, or even if you just like great views, is the Fortezza, the Venetian fortress built in the 16th century and Rethymno's most visible landmark. Looking out from the ancient ramparts is breathtaking.
The most notable building architecturally on the Fortezza site is the meticulously restored Sultan Bin Imbrahim Mosque – converted by the Turks from a Venetian cathedral. Close to the Fortezza's entrance is a little museum set in a 17th century mansion. For a fascinating glimpse of traditional rural life in the Rethymno region, the Historical & Folk-Art Museum makes a great stop. The redeveloped Archaeological Museum of Rethymno in its new venue off Mikrasiaton Square is well worth a visit, detailing the deep history of the Rethymno region.
Cafe Culture
Leaving the curated collections behind for a while, the old town's delightful maze of tiny alleys is home to the city's coolest cafes and bars. A favourite is Ali Vafi's Garden at Tzane Bouniali 65, a hidden walled courtyard to chill over wine and cocktails. Ultra-cool Livingroom on the beach road is a classy lounge cafe with good vibes and live music. Great for brunch or late-night drinks it's been an elegant favourite for locals and visitors for years. A word about the Venetian harbour. It's heartbreakingly picturesque, and a must-see, but as for culinary delights, with one or two notable exceptions, just a few steps away the food is more inspiring.
Gaias Gefseis on Ethnikis Antistaseos is a great snack spot. The cafe bakery produces some of the best traditional cakes and biscuits to be found in Rethymno. And if ice cream's your thing you're in the right place. Near the famous Rimondi Fountain, Meli serves the best home-made ice cream in Crete. Locals throng there in all seasons for delicious home-made sorbets and more.
Great Gastronomy
The old town has some of the best restaurants in Crete. Check out Raki Baraki on Arabatzoglou 17 for a laid-back lunch or dinner of traditional favourites with a hint of contemporary fusion using the freshest local produce. For a truly sublime and intimate dining experience in its own beautiful flower-filled courtyard, head to Avli (Xanthoudidou 22), which has regularly been voted as one of the best restaurants in Greece.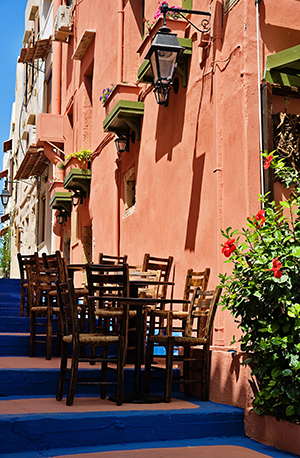 For light bites, check out the tavernas and mezedopoleios (pavement cafes serving tasty tapas-style dishes) in Vernadou street near the Porta Guora, the ancient stone gateway on the old town's southern edge. Sympligades and To Rakodikeio are popular.
What makes the old town so charming and vibrant, is that it's a living, working area of Rethymno, with many of its tiny streets residential, and where small traditional businesses not directly related to tourism, still flourish.
For a peak into how the traditional ways remain in Crete's most 'happening' city, there's no richer experience than to visit the kitchen of one of the last traditional filo pastry makers of Greece, Yiorgos Hatziparaskos (Vernadou 30). Open in the morning and early evening, watch the spectacle as Yiorgos stretches the fine pastry over a vast table. Afterwards you'll be invited to try their exquisite baklava and kataifi pastries. How could you resist?