Wine Making: An Ancient Craft
"There's a land called Crete, in the middle of the sea that looks like wine,
It's beautiful and fertile, surrounded by the waves." ~ Homer, Odyssey 19.172–173
The Cretan Winemaking History Begins with the Minoans
Crete has a long winemaking history with roots in the island's Minoan past. Archaeologists discovered 41 Minoan wine presses (lēnoi) in Crete: one of the best preserved is in the Minoan complex at Vathypetro (ca. 1580 BC), five kilometres south of Archanes. The site is open to the public, with free entrance.
You will reach it after a 1 hour 25 minutes' drive from The Syntopia. Still, although the journey is long, it is worth seeing the wine press and the stunning views of Mount Juktas, which was significant in the religious life of the Minoans and remains for the modern Cretans.
The Minoans exported red wines to Egypt in large ceramic containers called pithoi and amphorae. At the time, olive oil, cereals, and wine were essential trading goods.
Malvasia di Candia
Famous during the Venetian occupation, when Crete was the Kingdom of Candia, Malvasia was a well-known wine imported by Venetians, Romans, French, Germans, and others throughout Europe. It was a sweet, aromatic wine with a dark red colour, although it was made of white Malvasia grapes.
Despite its red hues that sometimes were so dense to be considered black, Malvasia was and still is a white wine. Its colour comes from oxidation occurring by keeping the wine at temperatures of 45°C for six months or 60°C for four months. Unheated Malvasia was honey or amber, and cooked was chestnut-brown or darker.
According to French naturalist Pierre Belon who visited Crete in the 16th century, Cretan Malvasia wine was first cooked before being transported to France, Germany, and England. He describes the process in his book Les Observations de Plusieurs Singularités (Paris 1588).
Huge wine cauldrons lined the shores in Rethimni used during the grape harvest to heat Malvasia. Ships that came to transport the wine abroad loaded in Rethimni because they wanted the cooked wine, which was finer, and kept longer than uncooked Malvasia preferred by Italians.
Some wineries try to revive the old Cretan Malvasia today, but unlike its ancestor, the modern wine is golden – see Lyrarakis, Malvasia of Crete.
Other Cretan wineries use the grape to make dry white wines with rich jasmine, herbs, citrus, and peach aromas.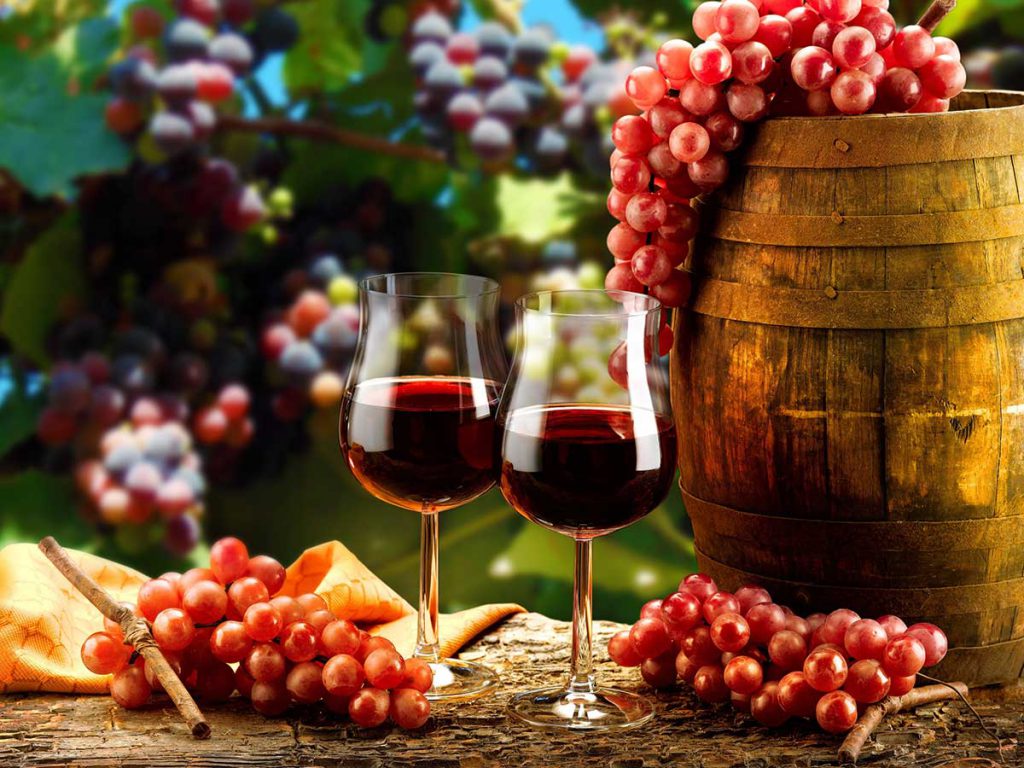 Wines of Crete After the Turkish Occupation
When the Ottomans conquered Crete in 1669, the wine production on the island plummeted because Islam prohibited alcohol consumption. As a result, many wineries had to cease production.
However, as soon as Crete regained its freedom, new agricultural reforms enabled family wineries to reopen using traditional techniques.
Modern wineries only opened at the end of the 1990s, and today they produce award-winning wines recognized for their quality and the constant effort put into reviving old local grape varieties that give Cretan wines unique qualities and differentiating flavours.
Cretan Grape Varieties
Dafni was almost extinct on the island. It is an ancient variety that survived thanks to local producers who revived it and now use it to create unique wines with moderate acidity and a specific aroma reminiscent of bay leaves (laurel) hence its name and notes of herbs and fruit. It originates from the Heraklion regional unit. Dafni wines have low alcohol levels and pair well with fish, poultry, pasta, and salads. Dafni wines bear PGI indication PGI Crete (ΠΓΕ Κρήτη).
Plyto was also threatened with extinction and revived by local producers who identified and replanted it. Originally from the Heraklion regional unit, Plyto produces refreshing wines with citrus, fruit (apple and pear), and herbal aromas. Plyto wines may bear PGI indication PGI Iraklion (ΠΓΕ Ηράκλειο).
Thrapsathiri is a promising Cretan variety, highly resistant to drought. It grows all over the island; however, the best wines come from Heraklion and Lasithi. Thrapsathiri produces soft acidity wines with robust floral, mineral, peach, melon, and tropical fruit aromas. You can find Thrapsathiri wines under different PDO indications, including PDO Sitia (ΠΟΠ Σητεία), PDO Handakas Candia (ΠΟΠ Χάνδακας), PDO Malvasia Sitia (ΠΟΠ Malvasia Σητεία), and PDO Malvasia Handakas Candia (ΠΟΠ Malvasia Χάνδακας Candia).
Vidiano is a white grape variety origination from the Rethymno regional unit. It has been recently introduced into commercial production, but it has excellent potential to deliver wines of consistent quality. Vidiano wines usually have high alcohol content, medium to high acidity, and a creamy texture. Its dominant aromas are stone fruits, tropical fruits, floral, and sweet herbs. It is a versatile wine that can be oaked, fresh, or aged.
Kotsifali is the most popular red grape variety of Crete. It produces excellent wines with notes of red and dark fruit and intense floral and spices aromas. It is generally high in alcohol, with low acidity and soft tannin. Kotsifali pair well with poultry, red meats, game, and cheeses. Although it produces a good wine on its own, you will usually find it in blends with other varieties, most notably Mandilaria.
Liatiko is another red grape variety celebrated in Crete, particularly for sweet old oak barrel-aged wines from sun-dried grapes. However, it can also be used for rose and red wines. All have intense red fruit flavours, high levels of alcohol, and very soft They pair well with spicy foods, red meats, game, fish, and poultry.
While most Cretan wineries today use modern winemaking procedures, farmers in the countryside still make their wines according to old traditions. For example, barefoot grape-stomping is still practiced in Cretan villages instead of utilizing a winepress. Participation in such a process can be a fun experience regardless of your age. In addition, it is entirely sanitary and helps winemakers "to customize tannin structure and reduce seed breakage, which can create harsh, off flavours." Give it a go if you have the chance!