Autumn Traditions on Crete Island: Cretan Raki (Tsikoudia)
If you visit Crete in the fall – from the end of October until late November – you will see the island like a few other tourists: it is the beginning of the Cretan winter, with many overcast days, wind, and occasional rainfall. But the damp weather does not dampen the spirit of the locals: they celebrate the season with festivals and the centuries-old tradition of raki-making.
What Is Raki? (Tsikoudia)
Raki (original Cretan name tsikoudia) is a grape-based pomace brandy with an alcohol by volume (ABV) ranging between 37% and 65%. While the term tsikoudia is the Cretan name, "raki" has remained since the Turkish occupation of Crete and refers to the same drink.
Locals in the eastern part of Crete – Heraklion and Lasithi regional units – prefer the term "raki" for the drink. On the island's western side – Chania and Rethymno regional units – the favoured idiom is "tsikoudia."
Cretan raki is nothing like the Turkish raki.
Cretan raki is made by distilling pomace leftovers from the winemaking process. It is usually flavourless, but some producers use honey, cinnamon (rakomelo), herbs, or citrus to give it a unique fragrance.
In contrast, the Turkish raki is made of twice-distilled grapes or raisins and flavoured with anise.
Cretan raki does not contain anise and has a transparent colour, like grappa.
How Is Raki Made?
Raki is distilled from pomace (strafylla) – the solid remains of grapes (skins, pulp, pedicels, and seeds) left over after pressing the juice (grape must) to make wine.
The pomace must ferment in barrels for up to 40 days before the distilling process.
Distilling takes place in artisan copper alembic stills known as kazani. The pomace heats inside the sealed kazani at a low temperature. As the mixture begins to boil, the vapours liquify and produce alcohol.
The first litres – proto raki, meaning before raki – have high alcohol by volume (ABV) concentration, and very few people adventure to try it a shot. Proto raki has medicinal use and is not suitable for consumption.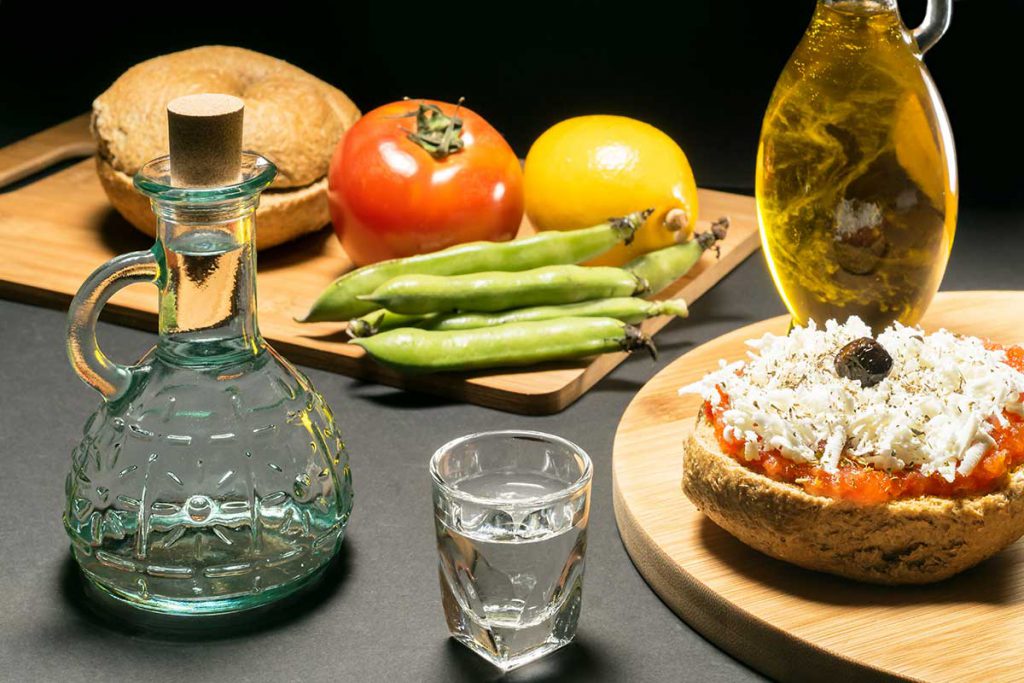 The Raki Feast: Rakokazana or Kazananema
Most mountain villages on Crete Island have a kazani and two or three men licensed to produce raki. The locals collect the pomace in barrels, then drive to the kazani to have it distilled. It is a joyous occasion for the entire community: villagers come together, bring home-cooked dishes, and meat for the grill, and party while waiting for their share of raki.
This party, called a raki feast, is known as rakokazana or kazananema. There will be live traditional Cretan music (typically lyra) and folk dances, or they will play pre-recorded traditional folk music when no musicians are available.
How will you know where to find rakokazana or kazananema parties? Follow the smoke. When you drive on the mountain country roads in November, you will see smoke – more likely vapours – rising from unlikely locations (not the chimneys of private homes). That is probably where you will find the kazani and the party.
You can "crash" the party – strangers are welcome. Maybe buy some sweets if you do not want to arrive empty-handed. Cretans appreciate sweets from their local bakeries. Tell the bakers that you plan to go to a rakokazana, and they will know what to give you.
Rakokazano is not just a party following the distillation process but a ritual with origins in Ancient Greece. The process and family-gathering tradition remained the same throughout the years.
In Crete, besides factory distilleries, the rest of the "kazani" are private, producing small batches for local use. The distillers must have licenses to produce raki. Cretan Prime Minister of Greece Eleftherios Venizelos passed a law in the 1920s giving farmers and winegrowers in Crete the first licenses. After the law, circa 1400 kazani operated on the island. Since most producers did not renew their licenses, only 550 kazani are still active today.
Where to Find Cretan Raki?
Every restaurant and taverna on Crete Island have raki on the menu. Often, they will serve a complimentary shot of chilled raki with dessert at the end of a meal. However, if you want more, you can order from the menu a shot, a 100 ml or 200 ml carafe.
You can also purchase raki in supermarkets. If you visit a minimarket, ask the seller for raki: you will not recognize it, as it is sold in unlabelled plastic bottles. If you do not know what it is, you may think it is an ordinary bottle of water.
When you visit a Cretan home, raki will make its well-deserved apparition to welcome you. But remember, eat mezze, and drink plenty of water whenever you consume raki. The beverage is strong enough to fool you and get you intoxicated in no time if you drink it too fast and on an empty stomach.