Hotel Spots that Will Inspire You
The Syntopia is a unique adults-only concept hotel based on coexistence, free spirit, and modern Cretan hospitality principles. It is the ultimate Greek island gypsetter destination, offering luxe accommodation, premium amenities, and inspired nooks where you can relax, meditate, read, or share your thoughts with like-minded guests.
The hotel spots that will inspire you feature bohemian and ethnic-chic environments designed with your well-being in mind. Made exclusively of eco-friendly, organic materials, the decor draws inspiration from nature and its soothing colours. There are no "loud" hues to distract the eye and break the balance and positive energy of the space.
Whether in your room or a public hotel area, you will experience the same relaxing, convivial, free-spirited atmosphere that will make a frabjous, indelible impression on you.
The Pool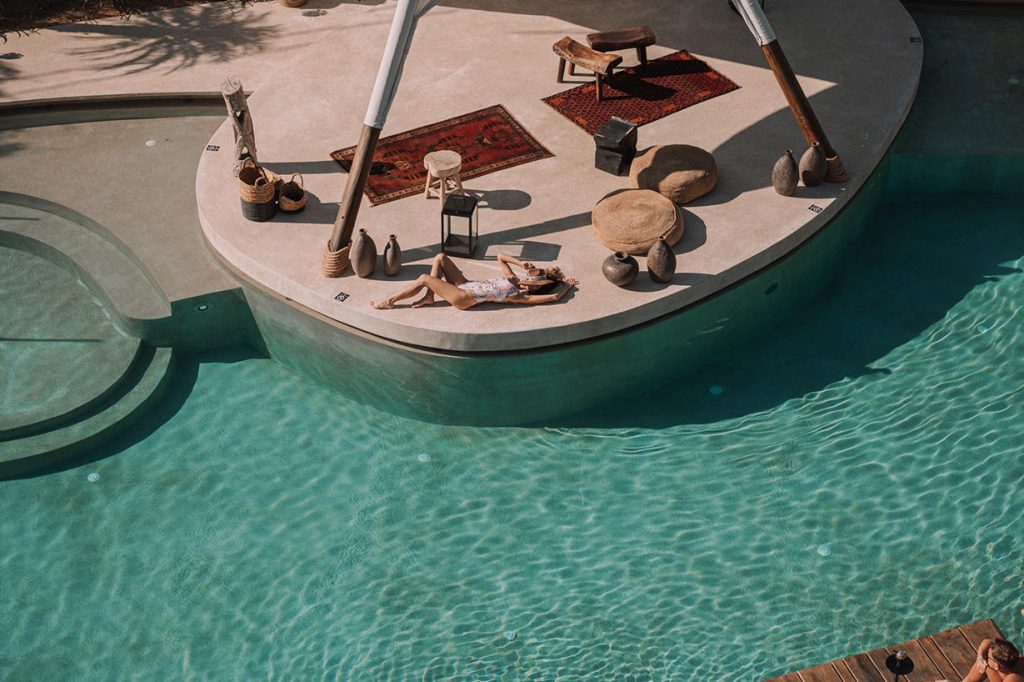 The centrepiece of the hotel's grounds is The Pool, where you can spend lazy hours sunbathing and sipping refreshing beverages from the pool bar – cocktails, mocktails, ice-cold beer, juices, coffee, or natural mineral water.
You can cool off with a quick dip in the pool and return to your poolside sunbed to relax. All sunbeds have outdoor matrasses for added comfort.
If you do not want to spend a long time by the pool but still enjoy the space, you can sit on the deck in front of the canteen, grab a snack, and relax at ease.
The tepee is another lovely poolside nook. We hold yoga and meditation sessions here from time to time, but you can also use the tepee to relax, smoke shisha by the pool, or have a cup of natural herbal tea.
The pool's architecture is reminiscent of a wave's natural flow, with its smooth curve as it reaches the shore. The descent will remind you of the first footsteps you take into the sea before taking a dip. Inobtrusive steps lead you straight to the deeper side of the pool if you want to immerse your body in water faster.
Slender palm trees add exotic touches here and there without perturbing the serenity of the view.
The Canteen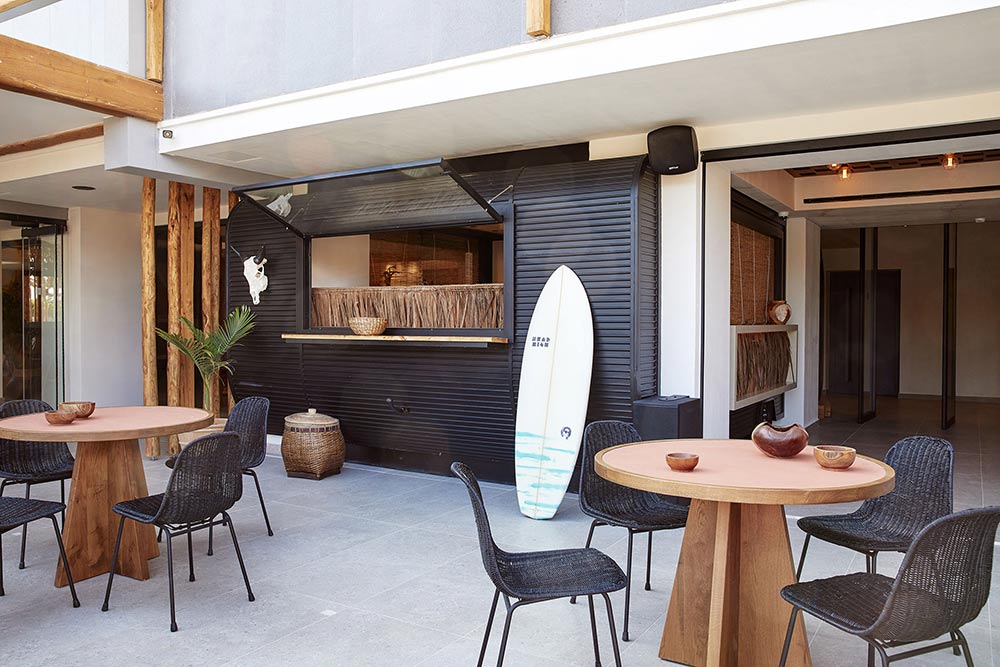 We do not compromise on quality when dining is concerned.
The canteen, which faces the pool, is another hotel area that will inspire you through location, decor, and a seasonal menu that uses locally sourced produce and inspired recipes.
Natural wood dominates a space where pitch-tinted wicker and green foliage bring playful accents that do not distract from the dining experience.
You can expect Greek-inspired starters and international street food highlights in a menu that caters to meat lovers, vegans, and vegetarians. Ask about gluten-free options or food for other dietary needs, and we will do our best to accommodate your wishes.
The canteen serves breakfast, lunch, and dinner, but you can also stop for a snack or coffee by the pool. While we cater primarily to our guests, we gladly welcome walk-ins.
The Syntopia Wellness Centre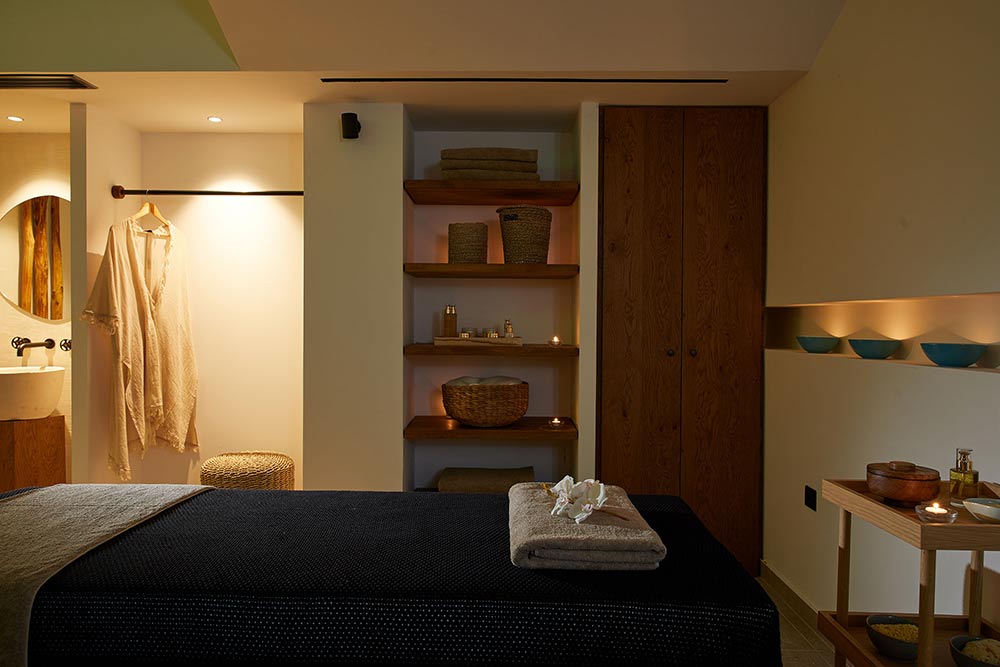 The Syntopia Wellness Center has a nature-inspired decor like all the other hotel spaces. You can also expect all-natural, organic materials used in everything from furnishings to bedding, towels, and spa treatments.
It is an Aegeo Spa wellness centre offering a range of signature treatments inspired by our Greek heritage. For an authentic Cretan spa experience, we recommend:
The Cretan Herbs Experience is a short, 25-minute treatment, blending healing dittany and sage with cleansing and detox properties that nurture your skin and stimulate blood circulation.
The Cretan Massage is a full-body, 70-minute spa experience with powerful effects on your body: it nourishes the skin with orange extract, drains your body of toxins, and strengthens your muscles.
Of course, there are several other Greek treatments you can try. For example, the Ancient Greek Massage uses deep-pressure techniques like the massages performed during the Olympic Games by the Greek paedotribes.
Besides these spaces, The Syntopia will also inspire you with its lobby bar, where you can have a drink with your new Syntopia friends. Lastly, there is an outdoor cinema, where you can watch a movie under the stars and enjoy the breeze and the fragrant aroma of the Cretan herbs growing in the garden.