Stay Fit While on Vacation
If you want to stay fit while on vacation at The Syntopia, there are many things to do to keep you in good shape. Here are a few tips to make the best of your holiday while enjoying the destination and caring for your wellness, health, and figure.
Install a step counter app on your phone, or, better yet, choose a pedometer wearable to keep track of your daily steps. Whether you walk, hike, or go for a run, wearable devices will also measure your heart rate, how many calories you managed to burn, and your sleep quality.
Go for a walk on the beach every morning and every evening.
You can walk around the airport terminal while waiting for your plane instead of just sitting and waiting at the gate.
Take the stairs instead of an elevator as often as possible.
Engage in sporting activities: a friendly football match on the beach, basketball, beach volleyball, swimming, and so on.
Book walking tours that combine movement and destination discovery into the same experience.
Try a new sport, like stand-up paddling (SUP), canoeing, horseback riding, etc.
Book a cycling tour for your skill level. Beginners will not have the stamina or experience to keep up with experienced riders. Travel by bike whenever you get the chance.
The Syntopia Gym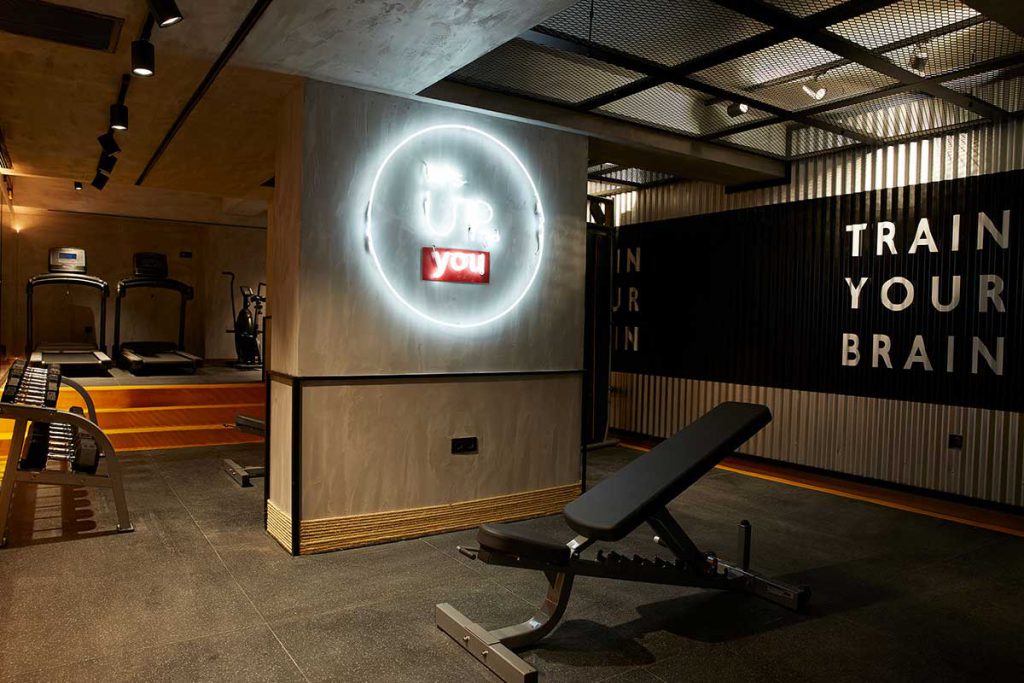 Besides things you can do outside the hotel, at The Syntopia, you could also use the gym to stay fit while on vacation. Here you will find all the equipment you need to exercise: stationary bike, cardio machines, ellipticals, and weights. You can take advantage of the free access to the fitness room to work out. For wellness for body and soul, you can join us for yoga and meditation.
Benefits of Regular Exercise
There's no reason to skip your routines while on vacation: stay fit every day, everywhere. Moreover, routine exercise has significant health benefits:
Weight control: most people exercise to burn calories and maintain a healthy weight. Any amount of exercise (or activity) is better than none at all.
Prevent life-threatening health conditions: regular exercise prevents health issues and diseases like high blood pressure, heart disease, metabolic syndrome, anxiety and depression, type 2 diabetes, and much more.
Better sleep: regular exercise help you sleep better, faster, and deeper.
Energize and improve your mood: regular exercise delivers oxygen to your tissues promoting lung health and thus giving you a boost of energy and strength to tackle other daily activities and routines. But, of course, with good energy comes a better mood, too.
Be more social: there are many types of social physical activities, including yoga, hiking, aerobics, and team sports (basketball, volleyball, handball, football, etc.). Physical activity can help you connect with your family and make new friends.
Stay fit while on vacation, not only for your health but also to inspire the ones in your life to exercise more. And if your usual routines are not available to keep you in shape, try something new. Keep active.